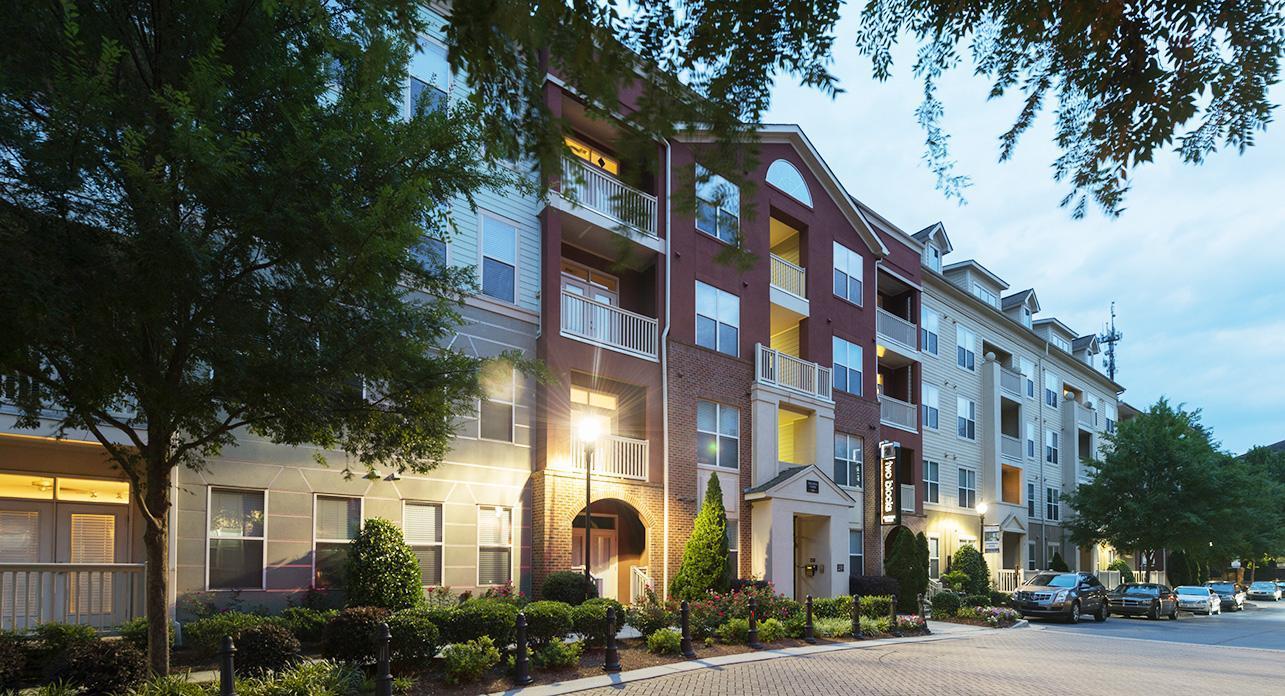 Two Blocks, a Class A, 400-unit midrise multifamily community in the Dunwoody submarket of Atlanta, has traded hands. The sale price: $72 million. Passco Companies acquired the multifamily property.
Developed in 2008 by Atlanta-based Pollack Shores Real Estate Group, the Two Blocks multifamily community has demonstrated effective rent growth of more than 11% for the last two years. That's despite its lack of key unit upgrades and amenity enhancements while maintaining occupancy rates exceeding 95%.
"Two Blocks is a rare find in today's market," says Colin Gillis, vice president of acquisitions, for the Southeast at Passco. "Institutional quality assets of this nature that provide a strong opportunity for value creation are hard to come by. This property, in particular, is strategically located within a premier submarket of Atlanta that provides quality demographics, a highly educated workforce, and immediate access to a variety of extremely deep and dynamic employment hubs."
Two Blocks is next to Atlanta's largest office market, Perimeter Center, which over 30 million square feet of office and retail space. Perimeter Center is home to more than 5,000 companies and 123,000 jobs, including the national and regional headquarters of several Fortune 500 and Fortune 1000 companies. The multifamily property is also located less than three miles from Atlanta's largest medical district, which includes three world-class hospitals employing over 15,000.
While the multifamily property is close to some of Atlanta's most important employment drivers, it sits in a quiet, suburban-like, single-family setting, removed from the congestion in and around Perimeter Mall. Gillis calls it an excellent combination of urban and suburban with immediate access to Interstate 285, GA-400 and Interstate 85.
"This stable rent growth and occupancy is a true testament to the strength of the market and the asset's quality location," says Gillis, who notes that there is an opportunity to grow rents further through capital upgrades. "We plan to implement a series of improvements that will modernize the property's amenities and support our strategy to better compete with similar vintage properties in and around Perimeter Mall."
In his estimation, there is currently a $200 gap between rents at Two Blocks and assets of similar vintage product 1.5 miles west off of Ashford Dunwoody Road. What's more, rents at the property are currently $500 below the newly developed properties along Hammond Drive, 2.5 miles west of Two Blocks. Gillis sees a significant opportunity to cut into this spread with the help of a light value-add initiative.
Passco plans to implement a series of upgrades to the interior and exterior of the property including installing granite countertops in the kitchens and bathrooms, significant improvements to the amenity package including the expansion and updating of the fitness center and improvements to the property's curb appeal starting with an exterior paint job.
"We were able to acquire the Two Blocks community significantly below the cost basis for new midrise assets in the Perimeter Center / Sandy Springs submarket in a municipality that will not allow future multifamily construction at very attractive cap rates for Atlanta," says Gillis. "Additionally, the property boasts some of the largest floorplans in the submarket, averaging over 1,000 square feet across a unit mix consisting of one- and two-bedroom floorplans. This will always provide a competitive advantage going forward in a world where floorplans are getting smaller and smaller."
Two Blocks is Passco's fourth acquisition in the Atlanta market. The multifamily property closed at contract price within 30 days of Passco being awarded the property, which Gillis says attests to the aggressive-nature of which the firm is pursuing quality assets in great locations.
"Passco was quick to recognize the long-term value Two Blocks presented and then performed flawlessly through an accelerated due diligence and closing timeline," Dan Phelan, director of Multifamily Investment Sales for ARA Newmark. The property is located at 4000 Dunwoody Park in Dunwoody, Georgia, and is within walking distance to local retail and lifestyle amenities.
ARA Newmark's Atlanta team, led by Phelan, John Weber, and Bo Moore, represented the seller in this transaction. Chris Black of KeyBank Real Estate Capital's Commercial Mortgage Group arranged acquisition financing for Passco Companies through Fannie Mae.
This article was originally published on GlobeSt.com.