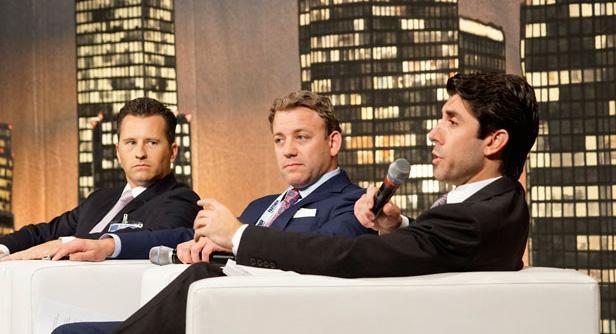 Apartments transactions rose to an all-time record of $150 billion in 2015 and with $72 billion in sales closed in the first half of the year alone, 2016 is on track to not disappoint. Behind these transactions are the professionals who put each deal together, whether they're connecting buyers with sellers or lining up the financing to make the sale happen. On a recent panel at RealShare Apartments last week, moderated by Kitty Wallace, EVP of Colliers International, expert sources discussed what it takes to sift through the massive number of players in the market to find the right components and parties for each transaction.
Panelist Gary Goodman, SVP of acquisitions at Passco, provided a national overlook, saying that he is fortunate to be able to look at the country as a whole as opposed to being a regional buyer. "The risk adjusted returns to us are really the best in the Southeast," he said, adding that his firm is very active in Northern Atlanta, the Florida markets, Nashville, and Austin to name a few. "What I like is that they are suburban locations. We aren't focused at all on the core inner city properties."
For the most, Goodman said that "we aren't overly built" at this time, but he did say that there are some core markets, especially in the gateway cities that are. "We stay away from those places. We have picked up some assets that are phenomenal that are getting 5% to 6% rent growth. It seems to me that it is a fool's game to be buying in San Francisco at a 3.5 cap when rents are going down. For us, it is all about cash flow."
James D'Argenio, principal of acquisitions at the Bascom Group, said that in some of the Sunbelt markets, his firm is focused on suburban locations. He pointed to pockets of Dallas, Austin or Arizona, and added that a lot of the schools are better in the suburbs. "You can still underwrite and find good value add deals in those markets if you believe in your strategy and have discipline in your underwriting."
Specifically in Southern California, David Harrington, EVP and national director of multifamily at Matthews Real Estate Services, said that there are opportunities everywhere regardless of where it is. "A lot of the deals we are doing are in the private capital space," he said. "When you have owners who are asleep at the wheel and they have been for years and they now have to sell, there is opportunity for someone to come in and pick that off."
Some places that stand out to Harrington are places like Boyle Heights and even South Los Angeles is getting a lot of attention.
Panelist Steve Fried, principal of Mesa West Capital, who is active in all product types, is seeing banks pull back. "That has created opportunity for balance sheet lenders," he said. "What we have been focused on historically are primary markets and some of the stronger secondary markets."
Goodman added that "it is so competitive to acquire properties and what we are up against often are private capital guys, sponsors that have partners and very often they will need to do a 30-day due diligence and a 30-day close and bring in a partner." He explained that brokers and sellers are nervous about those deals. "We close all cash, and don't need to bring anyone else in. it is very frothy in terms of capital availability to invest in. it takes two or three months to raise $30 or $40 million."
Fried adds that there is less volatility in the multifamily sector compared to other property types. "We financed a deal last year where there were no leases there at closing."
This article was originally published on GlobeSt.com.