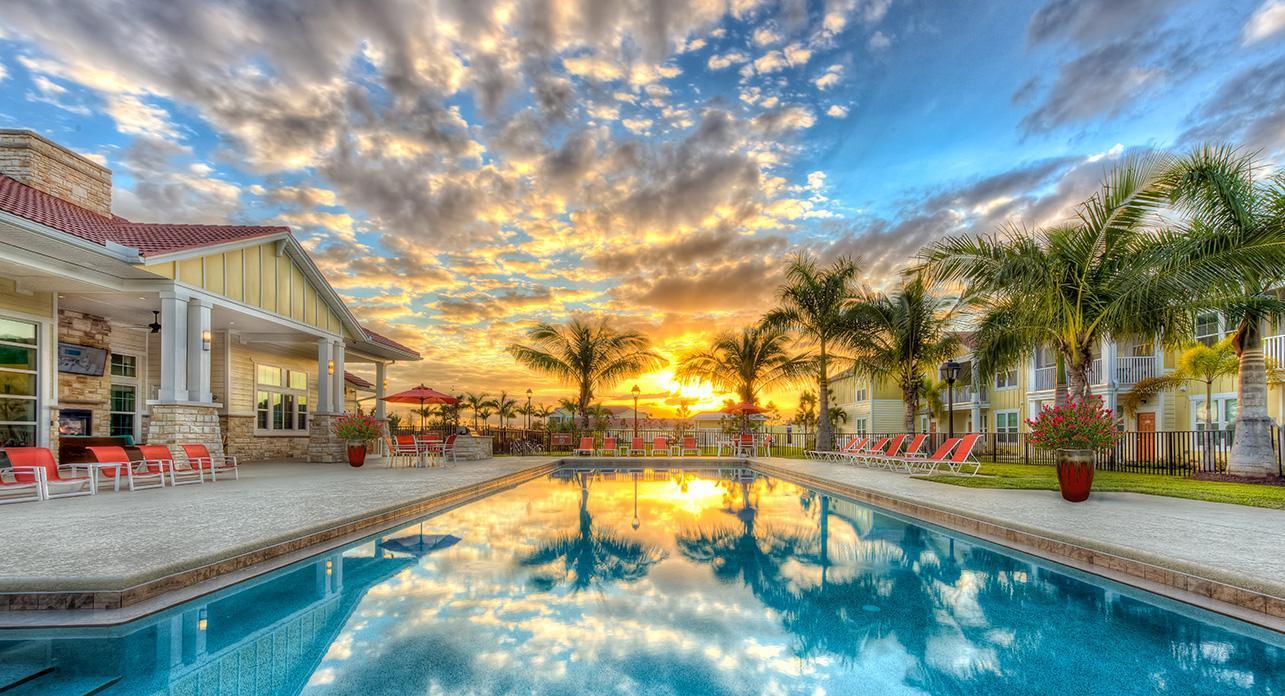 Springs at Estero, an institutional grade, class A, 260-unit multifamilycommunity in Southwest Florida, has traded hands. Passco Companies acquired the multifamily asset for $53.5 million.
The brand new, stabilized multifamily property is in the submarket of Estero within the Fort Myers/Cape Coral MSA. According to Passco's research, the Southwest MSA has added more than 55,000 jobs in the last two years, and its population grew by more than 22,000 people from 2015 to 2016. The Southwest MSA is also consistently ranked as one of the fastest growing regions in the US with an unemployment rate hovering around 4.7%.
"The region is surrounded by a diverse range of employment hubs, has remarkable population growth, high barriers to entry, and a very limited multifamily development pipeline," Colin Gillis, vice president of Southeast Acquisitions at Passco Companies, tells GlobeSt.com. "This strongly positions the asset for long-term growth and will drive increased resident demand over the next several years. The limited multifamily development in the region will also create an opportunity to effectively grow rents as the market will not easily become over saturated by an influx of new multifamily development."
Located about five miles from the Southwest Florida International Airport, the multifamily community is located near a diverse range of major employment hubs including Florida Gulf Coast University, Gulf Coast Medical Center and a variety of Fortune 500 companies. Gills is betting the Estero submarket and the Southwest area of the state as a whole continue to expand, attracting new business, new jobs and new people from across the country.
"Hertz Rental Cars, with more than 150 locations worldwide, recently relocated its corporate headquarters to the region," says Gillis. In addition, the Florida Gulf Coast University is continuing to expand with enrollment surpassing 14,500 students and a faculty of over 500. The relocation of major companies such as Hertz to the region, coupled with the growing population of students and faculty will continue to drive demand for the property over time."
Constructed in 2016, Springs at Estero features a resort-style swimming pool with an expansive sun deck, a community clubhouse featuring: Wi-Fi, a coffee bar, fireplace and a catering kitchen. The multifamily community also features a 24-hour fitness center and a poolside summer kitchen, among many other amenities.
"The strength of this asset was demonstrated by the property's initial lease ups. It outperformed similar class A product throughout the region in terms of both speed and rental rates," says James B. May, chairman and CEO at JBM Institutional Multifamily Advisors, the brokerage firm involved in the deal. "It is truly a class A asset that will continue to deliver value over time."
May represented the seller, Continental Properties, in this transaction. Chris Black of KeyBank Real Estate Capital's Commercial Mortgage Group arranged acquisition financing for Passco Companies through Fannie Mae.
This article was originally published on GlobeSt.com.