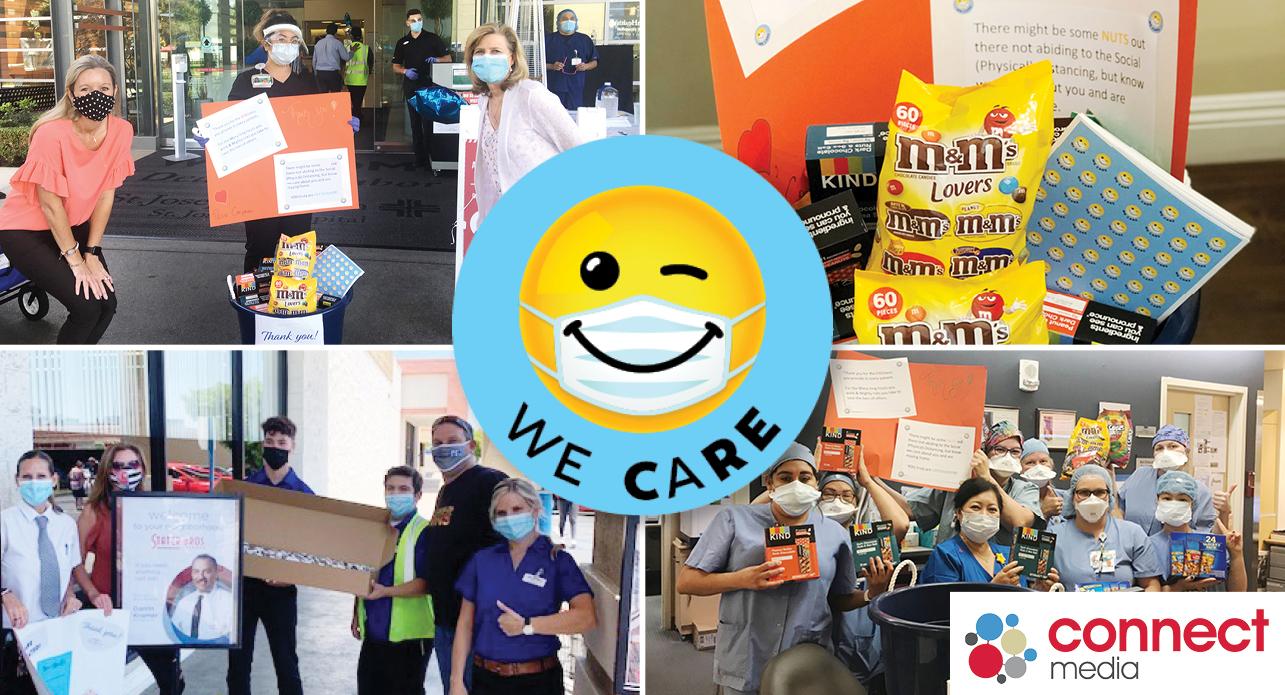 By Dennis Kaiser.
The coronavirus pandemic is introducing a host of new ways of acting and living our daily lives. Many have learned how to work remotely, are utilizing new tech tools to accomplish tasks virtually, and we all are adopting new health and hygiene practices such as wearing face masks or social distancing. But for some companies, looking at the world in a new way has introduced positive actions to improve the communities where they and their teams carry out their daily lives.
Passco recently created a program called We CaRE that celebrates front line workers and supports local companies, such as restaurants or small businesses. Given the economic impacts being inflicted by "Stay at Home" orders, the Southern California-based commercial real estate investor sought to do something proactive for those who work at hospitals, or in fire or police stations to show they appreciated their service. At the same time, Passco recognized it could positively impact local businesses if they bought goods from those businesses who were experiencing economic challenges, too.
The We CaRE program involves providing goodies or meals to local hospitals and service providers in the nearby area where Passco employees live and the company operates. Passco's Stacy Stemen says, "it's the least we can do to show our appreciation for all of their hard work in keeping us safe."
Stemen adds, "We CaRE is a way to pay it forward by supporting multiple people through a single community give-back initiative. If we all do this together, it is going to help. We know we're helping keep dreams of entrepreneurship alive by supporting one business and community at a time. That's the underlying theme and goal behind what we have created."
So far, Passco has contributed We CaRE packages to a local fire station in Aliso Viejo, CA, where one of its employee's son-in-law works and several of the companies' employees live; St. Joseph's Hospital in Orange, CA; and to a local grocer in Alta Loma, CA where one of the companies' employee's shops. In the case of the grocer, the support was particularly impactful since the manager and his children all had contracted the virus and are fortunately on the road to recovery. The company is in the process of giving back to four additional local Orange County hospitals, along with several other grocers and small businesses requesting support by their employees.
The We CaRE packages are essentially buckets of snacks and other treats, that are delivered with posters, and smile stickers. In other instances, Passco We CaRE ambassadors have delivered meals or food, based on what recipients have said they prefer – and will help brighten their day. There's even an emoji with masks and smile on top that is being used in social media posts about the We CaRE program with the hashtag, #wecarecre.
The program is designed to help people survive by addressing needs where Passco's employees live, which carries a strong message about local community caring, and because the company purchases through its own vendors and local businesses it also has a trickle-down effect. Passco is urging other companies to follow suit and come up with ideas to extend the We CaRE movement in their community. In fact, the company plans to continue doing the program into the future because it has experienced such positive reactions from those receiving We CaRE packages, and employees have rallied behind the program.
"This is an opportune time to launch a program like this since typically everyone in the retail industry would be gathering in Las Vegas for RECon this time of year," Stemen said. "While grocery chains may be enjoying higher sales since people are eating at home more, mom and pop stores or restaurants and franchise owners are struggling to stay in business. This is a perfect time to band together and give back to our local small businesses and retailers."
Passco's efforts show that a small investment can go a long way to help those in need, cheer people up, and perhaps save a business going through a difficult time. "Together, the Commercial Real Estate Family can make a difference one Community at a time! We have a long road of recovery ahead of us and every thoughtful gesture matters," Stemen said.
READ MORE AT PASSCO'S WE CARE PROGRAM.
Originally published on ConnectMedia.com