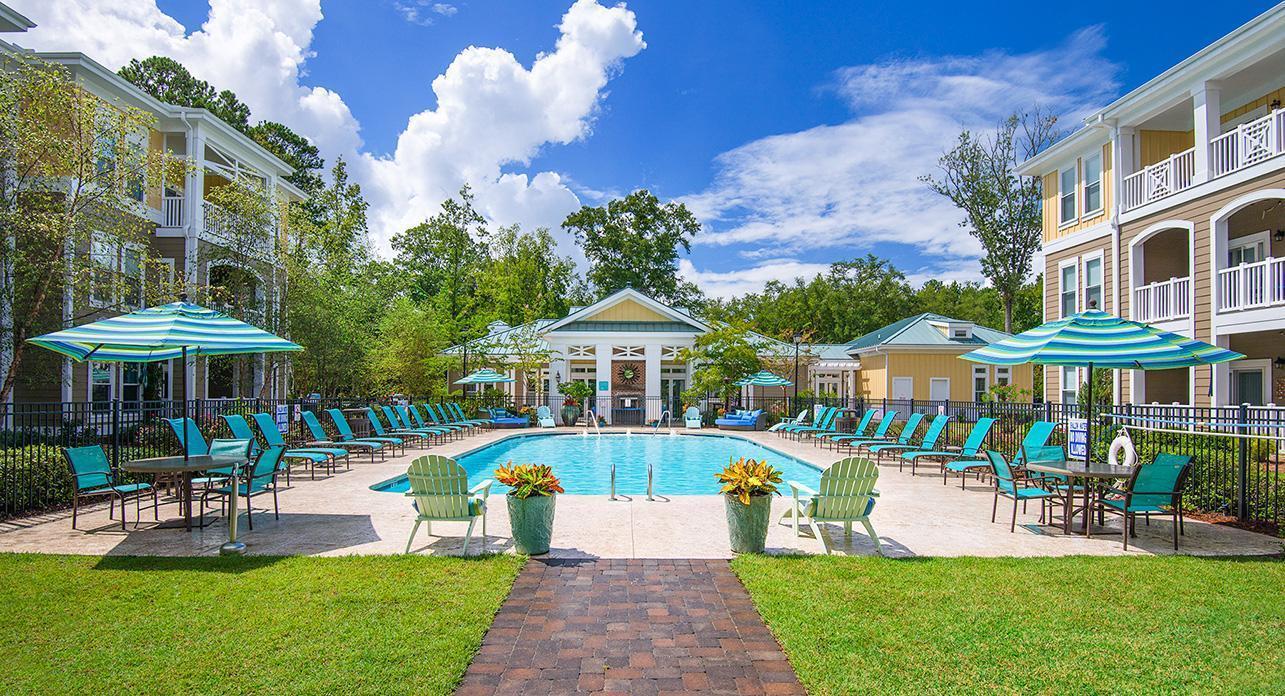 Passco Companies has acquired Woodfield South Point, a 2009-built, 240-unit institutional quality multifamily community in the West Ashley submarket of Charleston, South Carolina for $38.5 million. This is the firm's final acquisition in 2016, bringing Passco's total acquisition volume for the year to more than $540 million, according to Larry Sullivan, President of Passco Companies.
"We have been extremely active in the market nationwide, and we anticipate an even stronger stream of acquisitions in 2017," says Sullivan.
Passco aims to acquire $1 billion in assets in 2017, according to Sullivan, who notes that this acquisition in Charleston is reflective of the assets Passco targets.
"The acquisition of Woodfield South Point, which we plan to rebrand as 1000 West, is demonstrative of the exceptionally high quality assets we continue to acquire in growing markets across the country," he says.
Colin Gillis, Vice President of Southeast Acquisitions at Passco Companies, explains that multifamily product in economically diverse markets with strong demand drivers, such as Charleston will remain a focus for the firm in the New Year.
"West Ashley is quickly becoming one of Charleston's most desirable suburbs, and is positioned for long-term economic growth," says Gillis. "The area's population has increased by more than 50% over the last five years. Centrally located near some of the region's strongest employment hubs, West Ashley consistently demonstrates high quality demographics. For example, the average annual household income within a one mile radius of 1000 West is over $90,000 a year."
Further, Charleston is one of the fastest-growing mid-size metros for aircraft manufacturing and an emerging hub for international aerospace, aviation, automotive and tech industries, according to Gillis. The city also boasts prominent medical campuses and educational facilities, which account for more than 20,000 jobs. The Medical University of South Carolina is consistently ranked the #1 hospital in all of South Carolina.
Aside from being a major hub for these important industries, Charleston is without a doubt one of the most charming cities in the United States and consistently wins top accolades from publications like Condé Nast Traveler and Travel and Leisure, who have ranked Charleston as the number one city in the country and in the world.
"Impressive distinctions from renowned publications are a true testament to what a special place Charleston is," says Gillis. "The city often attracts population growth based solely on its reputation of being a great place to live. We know that Charleston will always be Charleston and that we have made an excellent long-term investment decision."
The apartment community is located off Highway 17, a major thoroughfare in the region, and in close proximity to Interstate 526, providing easy access to north and downtown Charleston.
"This strategic location is only a short commute to some of the region's largest business districts," says Gillis. "Charleston's Central Business District is a short 15-minute drive, and North Charleston, home to Fortune 500 companies including Boeing, Mercedes Benz, Volvo, and Bosch, are within twenty minutes from the property. The Boeing manufacturing and assembly plant is located just across the Ashley River, which will continue to drive strong resident demand for this apartment community over the next several years."
Gillis adds, "The submarket is also positioned for long-term rent growth. The property has experienced year-over-year rent increases of approximately six-percent over the last three years, even in the face of over 1,000 deliveries to the submarket."
Kevin Kempf at CBRE notes, "The apartment community's diverse amenities and distinct Southern charm will continue to drive long-term demand. In addition, its location in one of the most coveted and historic cities in the country makes it uniquely positioned to benefit from high quality demographics and a growing population."
1000 West is surrounded by a wide variety of high-end retail, residential, and entertainment options. Located close to Bolton's Landing, an affluent neighborhood with home values ranging from $250,000 to $400,000, the property is within walking distance to the West Ashley Greenway – an 8.25 mile jogging and biking trail – and approximately three miles from Stono Boat launch.
The multifamily community features a resort-style saltwater pool and expansive tanning deck, outdoor grills and barbeque areas, a clubhouse with outdoor fireplace, media and entertainment lounge, cyber café, dog park and car washing station, among many other amenities.
The property is located at 1000 Bonieta Harrold Drive in Charleston, South Carolina. Kevin Kempf and Phil Brosseau of CBRE represented the seller, Arsenal Real Estate Funds, in the transaction. Chris Black of KeyBank Real Estate Capital's Commercial Mortgage Group arranged acquisition financing for Passco Companies through Fannie Mae.