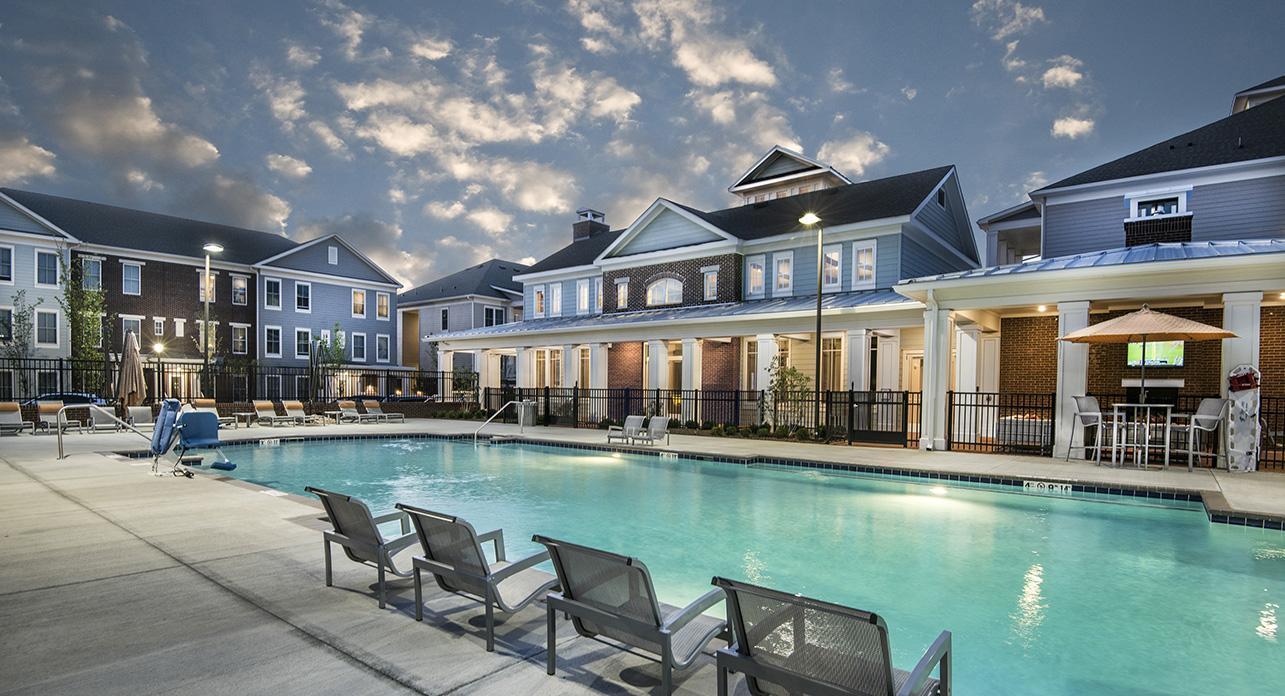 Passco Companies, LLC has acquired The Veranda, a 236-unit multifamily community in the highly sought-after Norton Commons master-planned community in Prospect, Kentucky, a growing submarket of the Louisville MSA, for $50.4 million.
"The Veranda at Norton Commons is the only ultra-luxury rental option within one of the best-executed master planned communities in the Southeast," explains Colin Gillis, Vice President, Acquisitions – Southeast at Passco Companies. "Norton Commons is the embodiment of a high-quality lifestyle destination, with unrivaled walkability to employment, boutique retail, dining, entertainment and recreation."
The Louisville MSA is experiencing rapid economic growth, resulting in strong demand for multifamily product throughout the region, according to Gillis.
"The demographic profile at The Veranda is one of the most impressive we have ever seen," he says. "The region continues to demonstrate strong employment growth, high average income levels, and a highly educated workforce. Market fundamentals are extremely strong, and will drive continued demand for the asset over time."
Gillis notes that job gains in the Louisville MSA far exceed multifamily deliveries. Approximately 8,500 new jobs have been added year-over-year, while only approximately 1,000 new multifamily units are being constructed each year. Further, the unemployment rate in Louisville is 4.6 percent, which is well below the national average of 5.5 percent.
"The median household income within a one-mile radius of the area is $115,000, a number that is consistent with the income levels seen at the property," says Gillis. "In addition, rising construction costs, expensive nuances that accompany developing within Norton Commons, and land prices exceeding $1 million per acre will make the addition of new rental units extremely difficult. This provides Passco with a competitive advantage over any new future development in Louisville for many years to come."
Mike Kemether in Cushman & Wakefield's Atlanta office adds, "The Veranda at Norton Commons is a unique project, strategically positioned as the only apartment component within the Norton Commons master planned community."
The difficulty in replicating a project of this caliber made this acquisition particularly attractive for Passco, according to Gillis.
Constructed in 2015, The Veranda at Norton Commons boasts more than 20 different floorplans and features a series of unit upgrades that attract both the established family unit and the millennial generation, including wood flooring, gourmet kitchens with granite countertops, stainless steel appliances, ceramic tile backsplash and custom cabinetry.
"By acquiring a core asset with amenities that attract a wide range of ages, we will benefit from strong renter interest, allowing for continued rent growth and increased property value," says Gillis.
The property is located less than a mile from Old Brownsboro Crossing, a 114-acre mixed-use development featuring retail space and a medical district. Norton Hospital, part of the 11th largest hospital system in the U.S. and a provider of more than 12,000 jobs system wide, is situated within this development.
In addition, the Class AA property is approximately ten miles from major employment drivers in downtown Louisville, and is three miles from Ford's Kentucky Truck plant, which is in the midst of a $1 billion expansion with current employment growth of nearly 1,500 people in 2016 alone.
The Veranda is also in close proximity to major transit corridors such as Interstate 71 and Interstate 265. The property will soon benefit tremendously from the completion of the East End Bridge, which will transform a 45 minute drive to the 6,600-acre Jeffersonville, Indiana-based employment hub of River Ridge down to less than ten minutes, according to Gillis.
Passco acquired the apartment community from Bristol Development, one of the premier multifamily developers in the country. Known for its extraordinary vision, Bristol Development is widely recognized as one of the first to pioneer many submarkets throughout the Southeast.
"Bristol develops thoughtful, well-planned properties in areas that are poised to perform extremely well long term," says Gillis. "Louisville has always had excellent demographics with virtually no ultra-luxury apartment stock. The swift lease-up of The Veranda and the market's overwhelming reception to the property is a testament to Bristol's vision."
David Hanchrow, Chief Investment Officer at Bristol Development adds, "This process has been incredibly smooth, and we are fortunate to have had the opportunity to work with Passco. We hope there will be more deals together in our future."
The Veranda is located at 9506 Civic Way in Prospect, Kentucky. Cushman & Wakefield's Louisville and Atlanta offices represented Bristol Development in the sale of the property. Craig Collins in the Louisville office and Mike Kemether in the Atlanta office were the selling brokers.