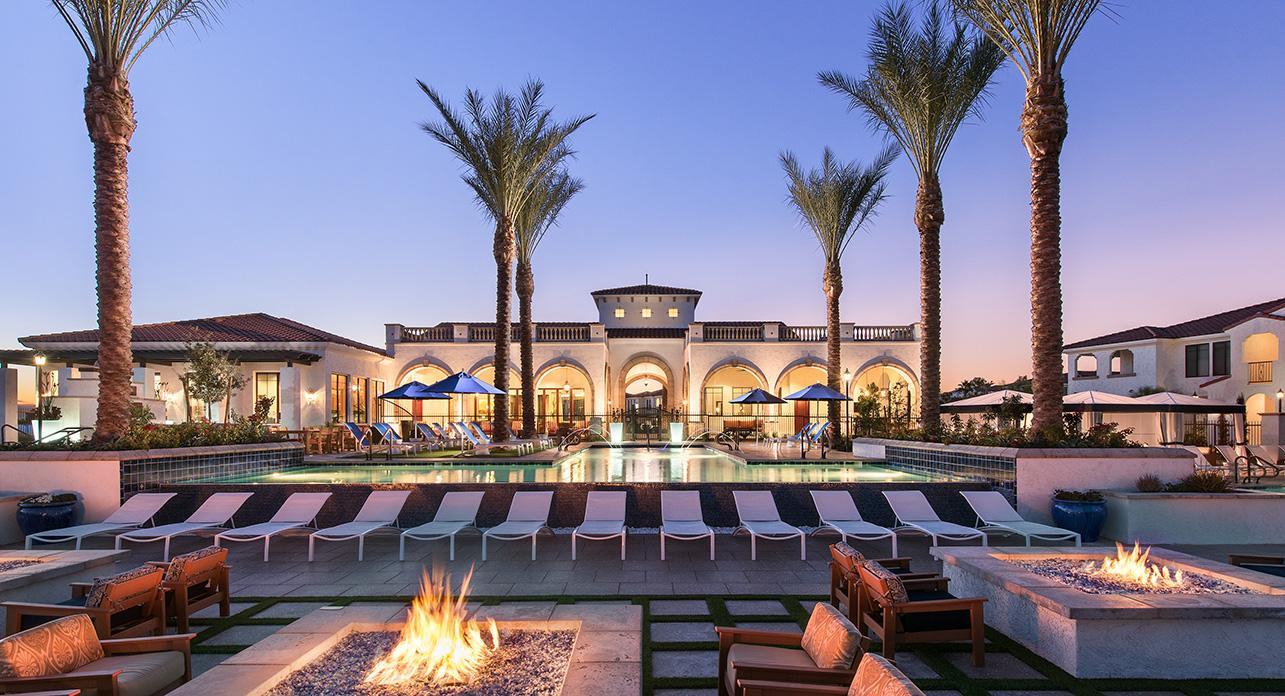 Passco Companies, LLC has acquired Almeria at Ocotillo, a 389-unit, Class A luxury multifamily community located within the Ocotillo Master Planned Community, an upscale master planned community in the dynamic Phoenix submarket of Chandler, Arizona, for approximately $80 million.
"Chandler is one of the most desirable submarkets in the Phoenix metro," says Gary Goodman, Senior Vice President, Acquisitions for Passco Companies. "The greater Chandler area is home to the largest concentration of tech jobs in all of Arizona and is positioned to perform extremely well over the next several years."
Goodman notes that Almeria at Ocotillo is located within the region known as "Silicon Desert," which is one of the most dynamic tech employment markets in the Southwestern U.S. The apartment community is also located within walking distance to three of the largest employers in Silicon Desert, Intel, Wells Fargo and Orbital ATK.
"The region's strong presence of technology-driven employers, highly educated workforce, and projected job growth presents a tremendous opportunity for long-term value," says Goodman. "By 2017, an additional 17,000 jobs are anticipated to hit the market. Wells Fargo, located approximately a half mile from the apartment community, is also planning a major expansion, adding two 13-story office towers. This may eventually lead to more than 12,000 employees on its campus."
In addition, there is more than four million square-feet of office space planned, or under construction, in the Chandler submarket with two million square-feet expected to open in the third quarter of 2016.
"This influx in office development, coupled with the unprecedented job growth throughout the region will continue to drive renter demand for the asset," says Goodman. "This will result in immediate stabilized cash flow while also allowing for continued rent growth and increased property value over time."
Located within the Ocotillo Master Planned Community, the newly constructed apartment community was built in two phases with the North Phase – featuring 194 units – completed in 2015 and the South Phase – featuring 195 units – completed in 2014.
"Almeria at Ocotillo boasts some of the most comprehensive amenities in Chandler further adding to its appeal," says Goodman who also notes that the average household income within Ocotillo is $104,000. "These high quality amenities will attract the growing demographic of young tech workers throughout the region, keeping renter interest high and maximizing our return on investment."
Sean Cunningham, Vice Chairman at CBRE adds, "Almeria at Ocotillo's distinctive Mediterranean charm combined with top-of-the-market community amenities and Class A finish-levels set the standard for upscale apartment living in Chandler. The community's coveted location within the high-end Ocotillo Master Planned Community, surrounded by diverse knowledge-based employers, ideally positions Almeria Ocotillo to benefit from strong future demand for multifamily housing in the surrounding area."
The apartment community features an infinity pool with complimentary day beds overlooking the Ocotillo Lake, a second resort-style pool, a lap pool, two spas, a state-of-the-art fitness center, an outdoor kitchen, electric car charging stations, and a clubhouse equipped with pool tables, among many other amenities.
In addition to these upscale amenities, the property is located approximately five miles off of Interstate 10, providing residents with convenient access to downtown Phoenix.
"Almeria is a distinctly luxurious community that we designed and built from the ground up, with a mindful focus on including premium, aesthetically-pleasing amenities and design elements," says P.B. Bell's Chief Executive Officer R. Chapin Bell. "We're very proud of what we accomplished at Almeria and we are pleased that others appreciate the value and beauty of this special property. It's in good hands with Passco."
The apartment community is located at 2470 and 2471 West Edgewater in Chandler, Arizona. Sean Cunningham at CBRE represented the buyer and the seller, PB Bell