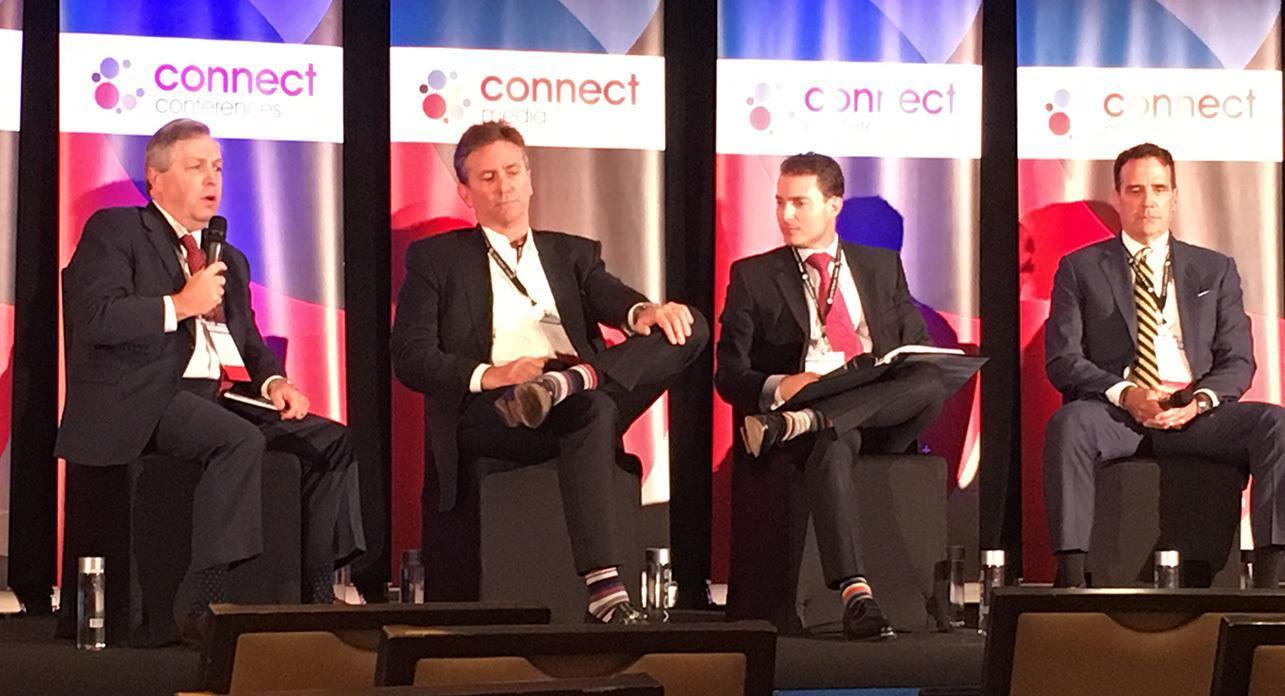 Connect Apartments brought together more than 500 CRE leaders for an information-packed conference at the JW Marriott in DTLA. The event featured a one-on-one conversation with Geoff Palmer, as well as a keynote presentation by MPF Research's Jay Parsons.
Top apartment brokers, owners, investors and finance players shared multiple ways to navigate a volatile economy while remaining profitable. CRE is an ever-changing and dynamic creature, and these leaders agreed, multifamily is fundamentally strong, with plenty of capital pursuing multifamily product ranging from banks to 1031 exchange investors. Panelists on the Trading Hands: Buying and Selling panel expect multifamily to remain a hot investment asset class.
There's a significant amount of multifamily product available now, and TruAmerica Multifamily's Greg Campbell expects that to continue next year. He says, "Investors like the safety and security of the multifamily sector."
Investment strategies surrounding multifamily product are adjusting to market conditions, demographic shifts and generational preferences. Among those approaches are investors that are focusing on specific product types, such as only Class A, or downshifting to Class B assets in Class A locations or markets.
TruAmerica Multifamily's Campbell says says what makes sense to them is offering properties that are affordable to the majority of the renter pool. That means acquiring Class B assets that "80- to 85% of the market's renter pool can afford." They believe that's a smart strategy because Class A product is priced out of the majority of the renter pool's budget.
Campbell notes, matching up a properties' capital improvements with the existing tenant's budgets allows them to stay at a property. They can add new amenities or upgrade a property, and the rent bumps will be acceptable.
Passco Company's Ogal Claspell says their investment strategy has shifted to the Southeast and Southwest, where they're seeking assets in both primary and tertiary markets. The search for "yield drove us there" over the past six to seven years. They typically acquire Class A, new assets that are well-located.
Another strategy that's worked for Passco is pursuing a "value-add lite" property in which they invest $3,000 to $4,000 per unit, and can generate 20- to 25% returns.
Value-add is a key component of the investment strategy today. JLL's David Young says the "value-add story is where everybody is now." He also believes "once Gen Y grows up, we will do more traditional units."
One of the most interesting trends ARA Newmark's' Curtis Palmer is seeing is existing, well-located product being brought up to today's standards. That's especially true for projects that aren't functionally obsolete. To compete, owners are being forced to "bring up the finishes to what is being developed today."
Palmer sees a number of challenges faced by the multifamily sector. They include a reduction of available core product, a thinning of the buyer pool, and soaring construction costs.
Capital, while plentiful, is shifting. The change has been occurring for some time, as the cap rate compresses to get the yield to work.
Campbell says options range from fixed to floating rates for debt, which provides flexibility. But "cash-on-cash returns is king." That is a change from the previous cycle, when 25% of profits came from cash flow. Now, he says that percentage is closer to 50%.
This article and video was originally published on Connect Media.