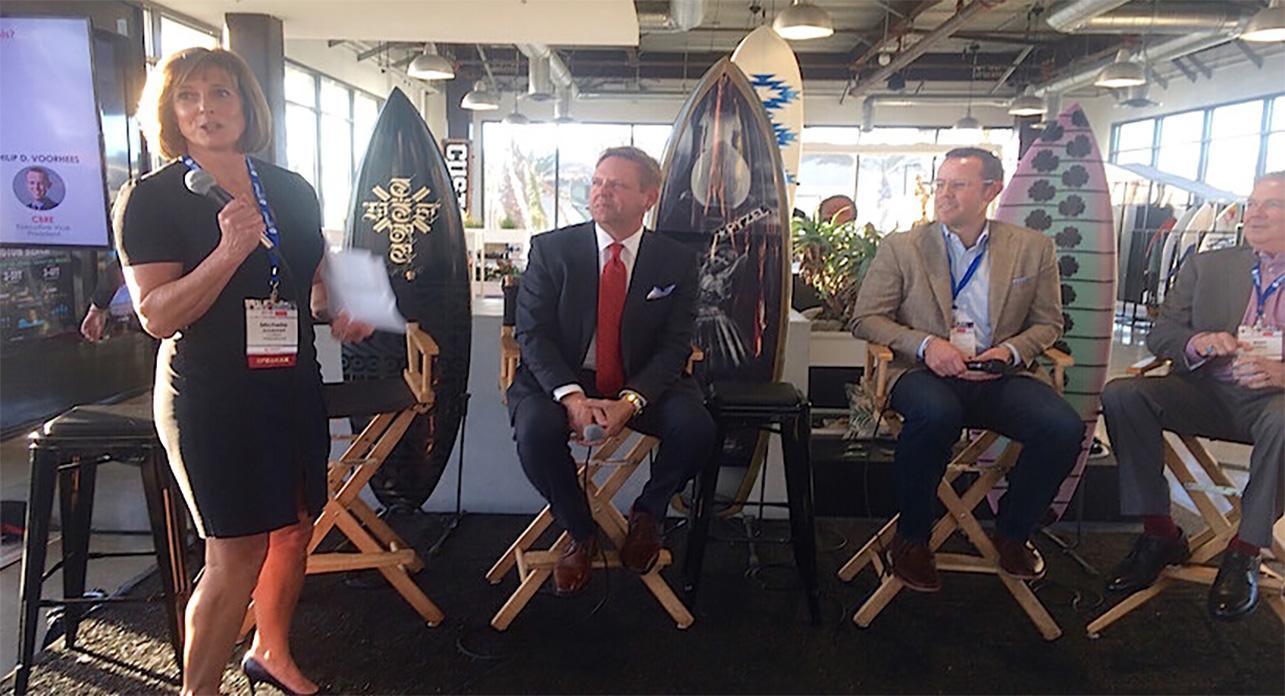 Connect Retail West brought together more than 300 commercial real estate leaders for an information-packed conference at the Hurley Surf Club's new retail experience at Pacific City in Huntington Beach, CA. The immersive afternoon overlooking the Pacific Ocean included three one-on-one conversations with top brands, two panel discussions and a retail trends keynote.
Connect Media shared key takeaways from the conference's one-on-one conversations and an in-depth report on neighborhood centers. Today we hear from the CRE investment panel that was moderated by Colliers International's Michelle Schierberl.
Marcus & Millichap's Bill Rose says the West Coast is a bit tighter from an investment perspective, while the Midwest is more open and on the East Coast, properties are getting 5% caps and no one is balking because they know it is quality real estate and well located. He notes, retail "always functions at the crossroads of population and income." Rose pointed out some of the problems facing retailers today is structural to the sector, but in the case of some, like Toys 'R' Us, it is a case of their own debt becoming a big problem.
CBRE's Philip Voorhees believes the negativity clouding the retail space in 2017 will dissipate and 2018 will be viewed more positively. He believes the collaborative approach that surfaced in the 2017 holiday season between brick-n-mortar retail and the Internet will extend into the year.
Rose asserted the retail marketplace has matured from days when retailers didn't embrace the "web thing," to a newfound embrace of the various ways online can "augment retail sales." He cited the Kroger/Alibaba deal, and Target and Walmart's zealous online sales efforts as evidence of the aggressive posture retailers are taking to combat Amazon these days. "There's a tenant war going on," says Rose.
That's one reason Passco's Alan Clifton says it is wise to "focus due diligence on who owns a company and how well capitalized it is." That could help avert problems down the road. Companies that don't have the balance sheet to react and change according to challenges the sector faces, may "be in trouble," he says.
But beyond solid tenants with strong balance sheets, there are other ways to meet challenges the retail sector faces today. Clifton notes, markets once considered "taboo," such as the Southeast, are in the investment mix today. That's mainly because of the growth being experienced in markets like Savannah and its bustling port. These previously overlooked markets may provide investors with the yield they're seeking, yet it is still "quality real estate." To be sure, he notes, the appetite for investors has changed since the 2000's," especially pertaining to risk and yield. The pursuit of deals today may require a shift into "different classes of assets," or making a geographic adjustment.
In terms of markets, Voorhees says the Coastal markets tended to focus on appreciation as a goal, but there could be a strong case made now for exploring other markets in a push to "get better yield elsewhere." Though he notes institutional investors are attributing risk to certain mall deals in the form of double digit cap rates, and he's seeing a pull-back on power centers or properties in tertiary markets. There's also been a shift in equity requirements that were in the 70-75% range in 2006-2007, but now are in the 50- 55% range, he says.
Voorhees notes that retail properties may deliver some of the more intriguing investment opportunities today, simply because the sector is so dynamic and there are long-term plays worth exploring. For instance, he points out that malls were typically built at a low building to land coverage ratio, with the norm at 20-25% coverage. Even if a property struggles as a retail site, an investor could look at development options down the road in a longer-term land play.
Rose agreed, noting a quest to find the highest and best use could include adding different uses such as multifamily, hotel, office or even industrial.
This article was originally published on Connect Media.