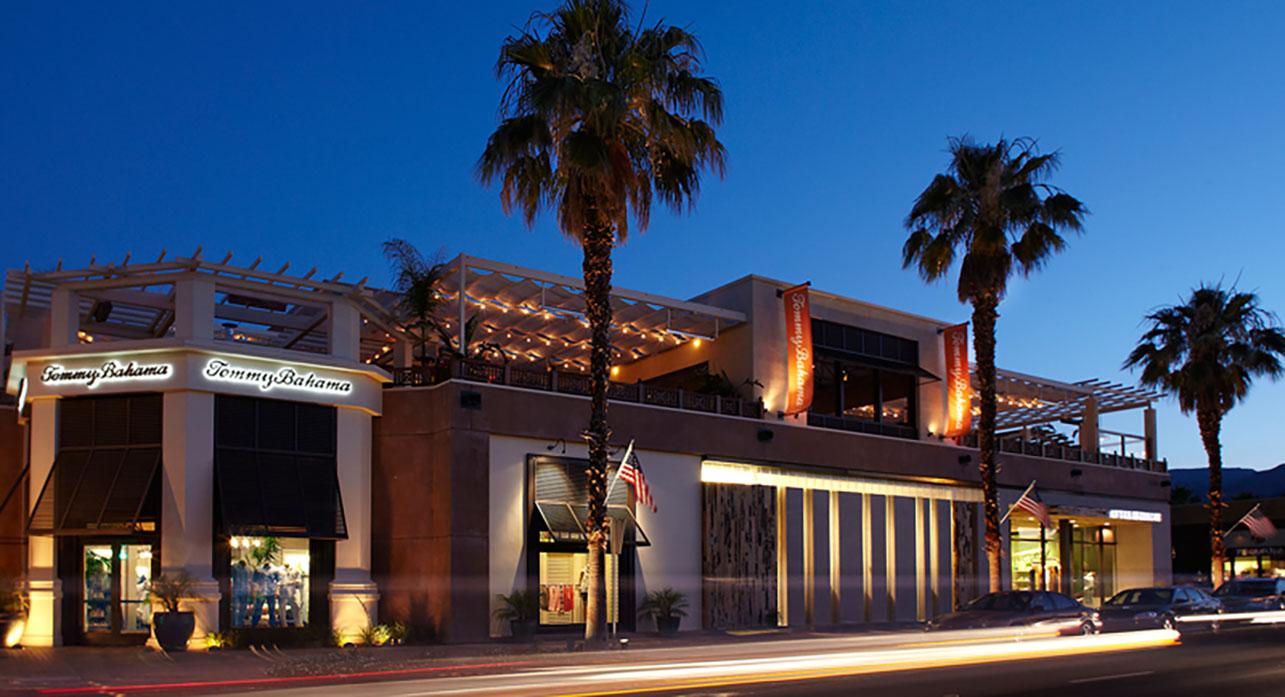 Now that experiences are all the rage, many of today's luxury shopping center retailers are hoping to satiate this consumer need through restaurants of their own.
The concept of retailer restaurants may have been around since the early 1900s, but it's only recently gained favor in the 21st century. What began as tea rooms and employee-style cafeterias has evolved into coffee bistros, power lunch spots and the perfect place to grab a drink – and maybe a new tie – after work.
"For many decades, department stores had their own generic restaurant, café or coffee bar," says Howard Wong, Director of Retail Leasing at Irvine-based Passco Companies. "As consumers today become increasingly sophisticated, however, they continue to demand increasingly sophisticated retail experiences and food offerings. Full-service dining is quickly becoming the future for retailers."
While retail sales fell for the third consecutive month this past February, decreasing by 0.6 percent, according to the National Retail Federation (NRF). Sadly, February's numbers were an improvement when compared to January's and Decembers drops of 0.8 percent and 0.9 percent, respectively.
Department store sales were hit particularly hard, declining 1.4 percent this past February. NRF noted consumers didn't seem interested in spending the money they had saved on lower fuel prices on retail purchases. Many also didn't want to venture out in cold weather. Then there are perhaps the two biggest roadblocks to a retailer's success: online shopping and the trend toward acquiring experiences, rather than objects.
Both challenges are widely embraced by today's most influential demographic, the Millennial, who values not just good times, but their time in general.
"Fashion and food have been informally paired for some time, but certain target segments of the buying public – namely, Millennials – are seeing some of their favorite gourmet coffee brands being featured alongside their favorite fashions," says Derrick Moore, a Principal in the Urban Retail Properties division of Avison Young's Downtown Los Angeles office. "Retailers realize that by pairing the two, they can create or increase the 'shopping adhesive' needed to keep shoppers in their stores a bit longer. Consumers will pay for convenience and access. Having these outlets easily accessible, saves time – and time is money. Consumers will pay for the ability to multi-task and have their favorite eats alongside preferred fashion brands."
PERKING UP STORE SALES
The retailer-restaurant trend had a modest resurgence in California, where options were typically limited to coffee bars attached to Nordstrom stores. It picked up steam, however, in 1989 when the company's largest store at the time, a 350,000-square-foot Nordstrom flagship that included four restaurants and a British pub, opened at San Francisco Centre.
Nordstrom still holds a great deal of brand awareness when it comes to its food offerings, which range from wine bar cuisine at Blue Stove in Santa Monica Place to coffee shop snacks at Ebar espresso bar at Paseo Nuevo Shops & Restaurants in Santa Barbara and its well-known Marketplace Café at centers like Stoneridge Shopping Center in Pleasanton.
Marketplace Cafés throughout the state have built such a loyal following that its Roma tomato basil soup is now sold in a jar over the counter. Another signature item, Nordstrom's cookies, are also purchased regularly as to-go items. This brand loyalty – whether to the clothing or food – can go a long way, according to Stephanie Skrbin, a Principal at Lee & Associates – LA North/Ventura.
"The restaurants offer a certain cache because of the bigger name associated with the concept," she says. "So a customer who is very loyal to the brand won't hesitate to spend a little more at the retailer's restaurant. A brand devotee will tend to linger longer and can even play a day around being in the store, if they don't have to leave to eat. Whether it's there as an amenity or destination for the consumer, the restaurant offers another way to generate sales for the mall and the retailer."
ARM TO TABLE
Though Nordstrom might have set the tone, several other high-end retailers have realized the value of keeping customers in the store when the urge to seek out food arises. Barneys New York recently opened Freds at its Beverly Hills store, while Tommy Bahama has three stores in California that contain its restaurant and bar concept. These include its stores along South Coast Highway in Laguna Beach, at Corona del Mar Plaza in Newport Beach and at The Gardens on El Paseo in Palm Desert.
Brand loyalists who have dined at Tommy Bahama have likely noticed the common theme among its merchandise, menus and even locations throughout coastal gateways and palm tree-lined boulevards. This isn't a simple coincidence, according to Lorena Tomb, vice president of retail brokerage at JLL.
"To be successful in the retail-restaurant model, you have to be able to deliver an overall memorable shopping experience where the brand and ambiance created for the retail and restaurant portions are harmonious or, at the very least, complementary," she says. "If the operator is able to create the right vibe, customers will be more likely to prolong their visits and spend more on each store visit, increasing sales overall."
Speaking of sales, the tropical-themed operator didn't just open up a few restaurants and call it a day. Instead, its marketing team went to work crafting a slew of unique experiences around the dining destinations.
"Tommy Bahama has established itself as the brand for people who choose a life that embraces relaxed and robust living," says Rob Goldberg, Executive Vice President of the retailer's restaurants. "Flavors of Aloha' inspires these same sentiments, stirring fantasies of an endless vacation and giving readers the opportunity to taste a bit of the good life."
Branding "the good life" across its retail and restaurant platforms is probably a good idea, according to Moore. It widens Tommy Bahama's consumer base, giving diners access to the merchandise, giving diners access to the merchandise, and shoppers the ability to enjoy a good meal inside a story they already know they enjoy.
"There are benefits from the 'cool factor' that may exist with the fashion brand, which could positively impact the on-site restaurant," he says. "The restaurant can increase visibility and access to potentially new customers. This can bring in additional traffic, which should lead to cross-sales. It also appeals to multiple shopping demographics."
COOKING WITH GAS
Though in-store dining has been successful for several retailers in California, Wong notes it's not easy for a traditional clothing store to simply integrate a foreign component like food and beverage. At least not if they're trying to do it well.
"Apparel retailers are not restaurateurs and they must be cognizant of the fact that food is not their expertise," he says. "These retailers need to be certain that any food or beverage element added to their retail store matches the quality of their brand."
Other considerations to keep in mind is the additional parking requirements, permits, costs of build-out and operations, and the projected sales per square foot for the retail portion of the store, versus the restaurant portion.
"We advise our retail partners that they need to determine if this food/beverage service for their customers to enjoy," Wong says. "If the service's primary function is not to generate profits, then the retailer needs to be sure the extra sales it generates in the retail store are worth the money spent to supply the service."
Skrbin also notes the utilities required for a restaurant generally surpass what's needed for a strictly retail establishment. Grease interceptors and hoods are also essential for most kitchens, which will require conversations between the landlord and tenant, including who will incur these costs.
Other tenants can also be an issue.
"A retailer restaurant creates a more relaxed atmosphere, which places shoppers in a more positive mood for spending," Moore says. "Of course, this can have an impact on exclusives and co-tenancy, which could make leasing more challenging due to the overlapping uses. The challenge comes in selecting concepts that resonate with the target audience, that don't conflict with existing tenants, and where the food and beverage operations don't negatively impact the shopping experience."
When this is all done right, the full shopping and dining experience comes together.
"Retailers who have incorporated the retail-restaurant model have seen a significant increase in their gross sales," Tomb says. "These concepts can allow retailers to benefit from profits lost to online sales. The main objective is to reinvent the shopping experience to keep attracting customers to the bricks-and mortar locations."
Wong, for one, wouldn't mind seeing this trend continue.
"While it can depend on the department store and its location, overall, tenants with a food and beverage component are very attractive to us," he says. "Simply put, these retailers often have strong sales and drive excellent foot traffic to the shopping mall or retail center itself. Retailers with food and beverage components can often be a destination for shoppers in and of themselves."
We'll drink to that.
This article was originally published in California Centers.