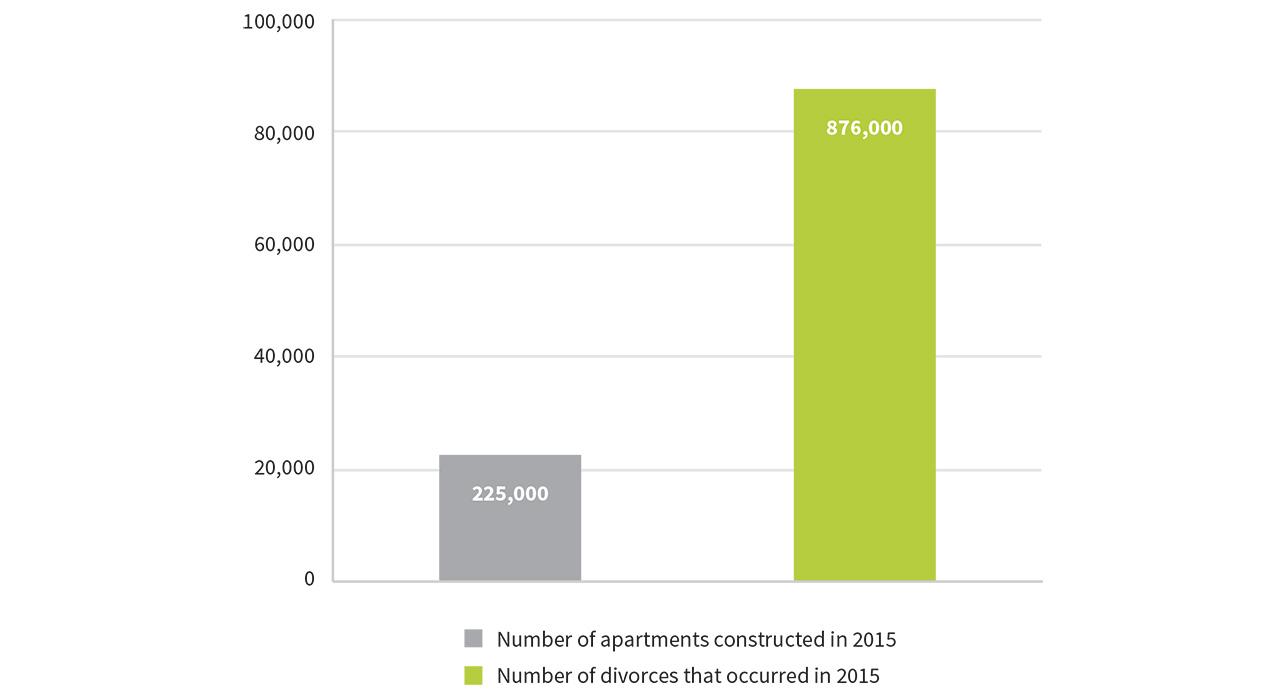 When it comes to demand for multifamily communities, there are usually two demographics that come to mind: millennials and baby boomers. What most people don't realize, however, is that even though both groups drive demand for multifamily properties, there's a third subset of individuals doing the same—divorced people.
According to the Census Bureau, there are approximately 107 million single people 18 or older living in the United States. Of that 107 million, 24% are divorced. This equates to 25.7 million individuals.
In addition to this 25.7 million, approximately 876,000 new divorces occur each year, or one every 36 seconds. This number doesn't imply that there isn't a significant amount of happy and successful marriages throughout the U.S.; it simply indicates that divorce is a reality and one that shouldn't be ignored, especially by multifamily owners and investors.
Divorce Rate on the Rise
According to a report by Sheela Kennedy and Steven Ruggles from the Minnesota Population Center at the University of Minnesota, the divorce rate in the U.S. has been steadily increasing for the past 30 years. Currently, 50% of all marriages in the country end in divorce. Over the course of 15 years, from 2000 to 2014, the average number of Americans who got married each year was 2.3 million.
With that number of marriages annually in the United States and a 50% divorce rate, demand for multifamily units has the potential to continue to outpace supply for several years, even if just one-quarter of newly divorced people were to enter the multifamily housing market. According to MPF Research, 225,000 apartment units were built in 2015, and it is anticipated that by the end of 2016 another 315,000 across the U.S. will be constructed. While not every divorced person moves into an apartment, more than three times as many people divorced last year as the number of new apartments built.
Marriage often signifies a step toward buying a home and starting a family, often preceded by newlywed renters leaving the multifamily market. When divorce occurs, the opposite often happens. During or after a divorce, one or both of the individuals involved are likely to move back into rental housing, on either a temporary or long-term basis, due to a reduction in the amount of income formerly available as well as uncertainty regarding where to live.
As half the marriages in the country continue to fail, multifamily owners will want to develop properties with the newly divorced in mind. Here are a few ways owners can ensure that their communities appeal to this third demographic and driving force behind multifamily demand:
1. Incorporate Kid-Friendly Amenities
Many times when a divorce occurs there are children involved. This means that multifamily owners who integrate kid-friendly amenities into their properties will often be newly divorced parents' top option. They'll want communities that help build a sense of home and include areas and gatherings where their kids can meet and play outside. These include playgrounds, large outdoor community spaces, family community events, swimming pools, and dog parks.
Parents will also seek developments with amenities such as fitness centers with adjacent playrooms so they can exercise while their children play within sight. Similarly, party rooms, theaters, and pools with outdoor kitchens that can be used for birthday parties or other children's events will attract this clientele.
By incorporating family-friendly amenities into their apartment community, owners can appeal to this growing demographic and help create a sense of home for divorced residents and their families.
2. Choose Walkable Locations
Apartment communities with high walkability scores will also appeal to this demographic. Such communities will be close to major employment hubs and schools, as well as grocery stores, retail shopping, and entertainment.
During marriage, one spouse may decide to stay home and not work. After a divorce, however, that individual will likely need to re-enter the workforce. This is why it is imperative to be close to major employment hubs.
In addition, if the couple divorcing has children, both parties will want to be close to good schools.
By providing easy access and increased walkability to these surrounding amenities, owners can create environments that appeal to divorced people.
3. Include Concierge Services and Community Activities
Apartment communities that take a page out of the hospitality industry and integrate concierge services such as on-site dry cleaning, dog-walking services, and housekeeping will also appeal to this demographic.
Often when a couple gets divorced, chores that used to take two people to complete will fall on the shoulders of one. This means that apartment communities that provide conveniences and services can be especially appealing to newly divorced renters.
Community activities such as wine tastings, foodie events, movie nights, and other events that encourage social interaction will also play a significant role in attracting this demographic. These individuals are likely starting fresh and will want environments where they can mix and mingle, make new friends, and begin a new chapter of their lives. Such events can help them build new social ties.
The national divorce rate is having a tremendous impact on the demand and need for multifamily units throughout the U.S. By paying attention to this growing demographic and catering to its needs, apartment owners can provide housing for an important segment of the population.
This article was originally published in Multifamily Executive.