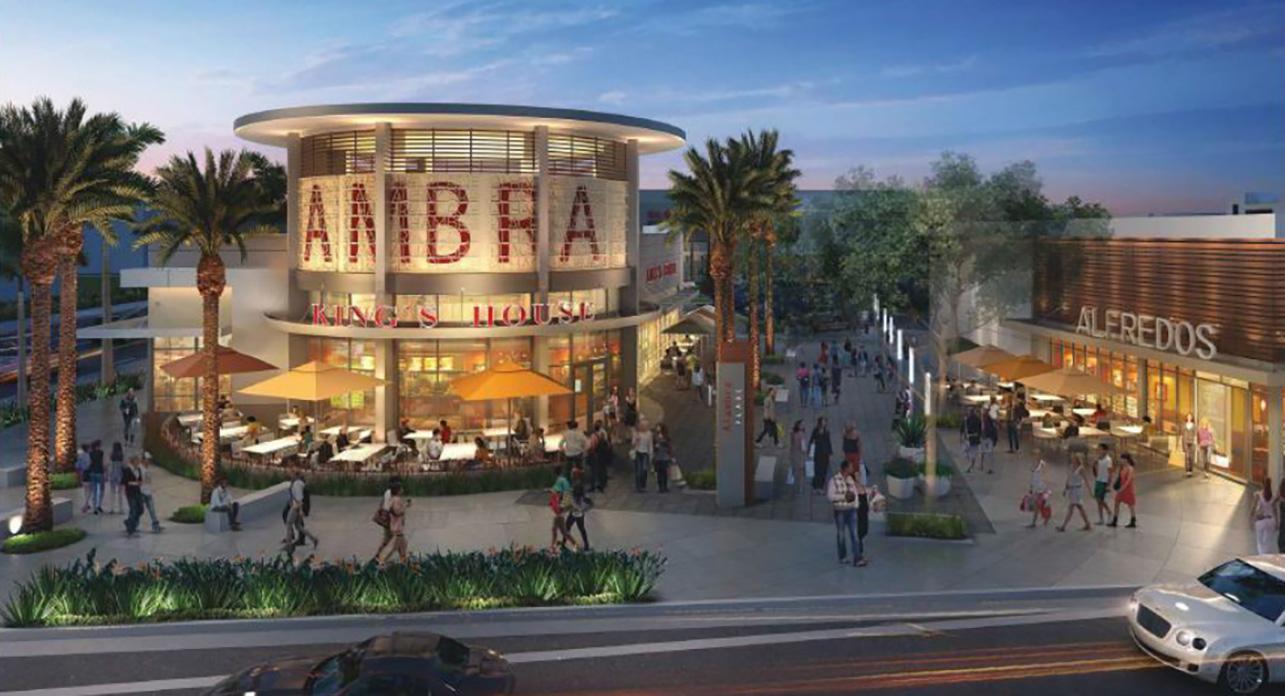 When it comes to retail development in the West Coast, while there may not be a lot of new development, there is a lot of activity.
"The biggest trend we see is the lack of new development, which has really adjusted the supply side of available new product," says Patrick S. Donahue, chairman and CEO of Costa Mesa, California-based Donahue Schriber. "The industry has been delivering about 150 million square feet nationally a year for the past thirty-something years. It is now delivering about 25 million square feet a year since the recession."
Donahue attributes this to the post-recession pullback by major grocery stores and big box retailers.
"The major retailers that drove much of the demand have pulled back," he continues. "Just look at the new store openings of the Targets and the major grocery chains. They are at a fraction of what they were before the meltdown. New housing drove much of their growth, and that is also well below historic deliveries. So the supply and demand equation is out of whack by historical standards."
Though new development may have slowed in California, this is not a case of "no news is good news." It actually spells very good news for savvy landlords who maintain well-positioned centers, as tenants now have fewer spaces to choose from.
"This trend has caused a continued decline of vacancies, combined with increasing market rents, which are due to improving economic conditions and a lack of new construction," says Kyle Matthews, CEO and chairman of Los Angeles-based Matthews Retail Group. "As a landlord, it really puts you in a position of leverage if and when you have a vacancy come available. It allows the landlord to push rents and dictate lease terms."
Landlords' Market
With more demand than supply, WREB's experts confidently declared that most of California's retail land- scape favors the landlord. These landlords, in turn, are looking to fill any existing vacancies with the highest quality tenants, according to Rick Rivera, president and CEO of Centers Business Management's (CBM) West Los Angeles office.
"Landlords are pleading for credit tenants," he says. "They want to fill their vacancies with A-plus credit ten- ants on long-term, triple-net, corporate-guaranteed leases."
Rivera believes it's post-recession jitters and a conscious effort to not repeat the past that has led many landlords to seek out only the best of the best, now that the tables have turned and many have that option.
"After riding out the Great Recession and the shambles it made of the SoCal commercial real estate market, landlords and investors want security and peace of mind," he says. "Long-term, triple-net leases with corporate guarantees offer stability. Landlords are confident these businesses — large, established companies — are highly unlikely to go out of business or close a location for mediocre performance. And even if they do, guaranteed leases provide peace of mind that landlords will still get their money."
The demand for top-notch space is so fevered, even with the pullback from some traditional retailers, that space in the few newly developed centers is oftentimes taken offline before the project even debuts. Matthews points to Federal Realty's The Point, a 115,000-square-foot shopping, dining and entertainment center in El Segundo, California, as one.
"The Point is the increasingly rare new construction retail project that leased up immediately and achieved astronomical rents due to an improving retail market, combined with almost no available inventory," he says.
Fueled by consumer demand, Westfield is opened The Village at Westfield Topanga at the end of September. Anchored by Costco, REI, Crate & Barrel, 24 Hour Fitness and Burke Williams Spa, the Village will also be home to more than 15 eateries of all sizes and a number of regional lifestyle tenants. When it opens this month, The Village, when combined with world- class Westfield Topanga and adjacent Promenade, will be home to over 300 tenants.
Also fueled by demand is DJM Capital Partners' Pacific City in Huntington Beach that is opening this month. The mixed-use project, located along Pacific Coast Highway, features 191,000 square feet of retail space. Retailers embrace the area's coastal lifestyle, and a unique local market, Lot 579, highlights the center's food retail offerings.
Everything is for Sale — for the Right Price
A landlord's market naturally translates into a seller's market — at least some of the time, according to the experts — if money is no object.
"On the investment-sales side, because market conditions are so favorable, most landlords are unwilling to sell," Matthews continues. "In the event they do sell, the prices are astronomical, so most of the historical buyers of these properties are unwilling to conform to the new market pricing."
Jereme Snyder, executive vice president of Colliers International in Irvine, California, says cap rate compression is also affecting retail's investment sales.
"New supply is not keeping up with increasing demand due, in part, by capital searching for yield," he says. "Small strip centers, for example, are experiencing cap compression because buyers will now accept more risk for higher relative yields. It's interesting to note that the cap rates of these smaller shopping properties are now often equal to what investment grade, single-tenant assets were selling for just a couple years ago. It is a great time to sell — the trending question at the moment is 'where do I replace my 1031 proceeds?'"
Snyder notes the recent listing of a brand-new space near Fresno where CVS holds a ground lease as an example of this compression. Colliers listed the space at a 4 percent cap rate, but is receiving offers between a 4 percent and 4.25 percent cap rate, "which is extraordinary, given that there are zero fixed rental increases in the 25-year primary term," he says. These conditions don't necessarily spell a bonanza for every single-tenant asset holder in California, however. There still has to be someone willing to pay that premium price and appreciate the value of those credit tenants. Even then, Snyder points out some owners may be overly ambitious when it comes to price because they're aware it's a seller's market.
"The primary challenge to investors today is capturing assets in line with their intrinsic value," he says. "For those looking to invest in single-tenant assets, an understanding of the fundamentals is critical to making a prudent decision. It cannot be simply based on credit. As the market has grown and become more competitive over the past five years, investors need to understand how properties will be able to withstand forthcoming economic cycles. There are still plenty of these types of properties out there. It simply takes more effort to identify them today versus a couple years ago."
Paying The Price
Retail investors aren't the only ones price-conscious nowadays. Many of the state's consumers are also watching their bottom lines, in search of the next good deal.
"Today's retail trends all boil down to the buying power of price-savvy consumers," says Jack Nourafshan, CEO and president of Reliable Properties in Los Angeles. "Too high of a price point for quality products does not work anymore."
Nourafshan notes that grocers, discounters and big box stores are rolling out smaller footprints as they attempt to keep their prices low and their quality high to accommodate consumer demand. These smaller footprints often mean lower rents.
"Big box retailers are downsizing 
to get better deal
terms or serving as
anchors in neighbor
hood centers without edging out mom-
and-pop operators,"
he continues. "The 
challenge for landlords is to convince
 retailers to think
 outside the box and go to locations they have not traditionally ventured into."
Reliable has worked with Walmart to secure Southern California locations for its smaller Neighborhood Market stores. The company has also worked with Smart & Final on its expanded Smart & Final Extra! store, which recently opened at one of Reliable's centers in Ontario, California.
Rivera has also seen a lot of movement on the dollar storefront. CBM has worked with Dynamic Development Group on its development of 21 Dollar General stores throughout Southern California. The company has opened stores throughout San Bernardino, Lompoc, Victorville, Yucca Valley, 29 Palms and Hemet, with several more in development.
"Dollar General has only recently begun expanding in California," Rivera says. "That market was previously ignored because of the high development costs. But the chain's continued expansion and investment in distribution centers is evidence they are firmly rooted in the California market."
Rivera also notes these properties have traded at cap rates in the high 5 percent to 6 percent range.
Ethnic grocers are also thriving in California's retail corridors, Nourafshan notes.
"There is also a drift toward ethnocentric grocery markets that targets specific ethnicities," he says. "But as the economy becomes more global, consumers are more exposed to varied ethnic products, allowing these stores to become destination stores, driving more consumer traffic to neighborhood centers. They cater to very robust Hispanic demographics and beyond."
Nourafshan says Reliable has recently signed deals with Hispanic supermarkets in Arleta, West Covina and Ontario.
Expanding The Palate
Consumers are not only becoming more adventurous in the kitchen. It's expanded to their choice in restaurants and dishes as well. One needs to only look as far as the newest, hip retail center to see these creative concepts in action.
"Dining has become a major component of every retail center, bringing the vibrant energy and life to centers that today's consumers crave," says Howard Wong, director of retail leasing for Passco Companies in Irvine, California. "The result is a more dynamic shopping experience, as we've reinvented the mall by incorporating a lifestyle experience throughout the entire property. To do this, we added outdoor elements and we are currently in leasing negotiations with many major sit-down and quick-service restaurants."
Wong points to Passco's Hanford Mall as one example of a center that has leveraged dining and incorporated it into a retail center. The center includes familiar faces like Applebee's and Chili's Bar and Grill, along with local favorite Arsenio's Mexican Food and quick-serve options like A&W, Dairy Queen and Subway.
Wong also notes elevated restaurant concepts can increase rent at many of the state's hottest centers. He believes Los Angeles and Orange County are two markets where this is occurring.
"The Los Angeles and Orange County markets are certainly on the forefront of the current foodie trend, and we're seeing demand for new foods and concepts translate into an explosion of new restaurants each year, creating a plethora of new businesses," he says. "We're seeing restaurant and food retailers increasing the occupancy in shopping centers from 10 to 20 percent — up to 30 percent to 40 percent in many cases."
Though food tenants can spell big bucks for landlords, Wong cautions that the "hip" factor surrounding some of these tenants may lead to higher turnover down the road. A typical restaurant tenant remains at a center for about 10 years, according to Wong, while many of today's specialty niche restaurants may only hang around for three to five years.
"Clearly, this adds increased risk for retail owners," he says. "Especially based on the higher rents charged for restaurant spaces, which translates to a greater loss when these spaces are vacated."
With risk comes reward, however, as Carter Crouch, director of acquisitions for Dynamic Development Group in Santa Monica, California, can attest. The firm has recently welcomed a couple new faces into its shopping centers that may turn out to be risky plays, though Dynamic believes they will pay of over time.
"Younger retailers
who made it through
the last recession 
have emerged 
healthy and lean 
and many of them
 have decided to take advantage of cheap capital and self-develop," he says. "Dynamic's concern is that these newly formed real estate departments are very young with the possibility of taking on too much development risk. With that understanding, we have positioned ourselves with retailers who we believe in, and who have desire, to own. Creating partnerships with these retailers is critical to their desire to own while growing their business, but reducing their intrinsic development risk."
These younger retailer development departments also face challenges when it comes to short-term growth. Crouch, however, emphasizes that big rewards can be reaped if both the landlord and tenant can make it through the some of the early humps. Barclay Harty, vice president of CBRE in Newport Beach, California, is seeing an increase in niche retailers throughout his region as well.
"Instead of your
traditional chain or
 well-known merchants, north Orange 
County is experiencing the expansion
of independent and
specialty retailers
and restaurants," he
says. "These new
 build-outs and operations are hip, 
unique, creative and thoughtful. There is pent-up demand from consumers wanting something unique and different for their neighborhood shopping experience."
Harty says the trend is particularly poignant in the salon industry, where Floyd's Barbershop, 18/8, 20 Lounge and Marilyn Monroe are "aggressively expanding," and in the pet care industry, where Krisers and Protein for Pets have taken of. Like Wong, Harty has also seen a variety of new food concepts penetrating his market. They include Mendocino Farms, Lemonade, Urban Plates and Jacks Urban Eats.
Though the demand for new retailers may be a general trend, Harty is quick to note it can pose some challenges that will need to be overcome before every landlord can welcome a newcomer with open arms.
"The challenge with this trend is it is limited by few restraints," he says. "This trend is usually found in higher demographic markets with disposable income and consumers who have an educated palate for their shopping needs. Another challenge is the tenant pool for these unique retailers is rather shallow, meaning there is not a deep list of these unique retailers."
Mixing It Up
Some of the state's savviest retail players are mitigating their risks by jumping in on the mixed-use trend. While California is not experiencing a ton of ground-up retail development, the mixed-use product type that combines either multifamily or office (or both) with retail is doing quite well, according to our sources.
Metro at Main, a mixed-use project in Corona, is one such project getting of the ground. It will include 868 luxury apartment units, in addition to 60,000 square feet of ground-floor retail.
"It has been a long time since we have seen any significant new retail development," says Brad Umansky, president of Progressive Real Estate Partners in Rancho Cucamonga, California, which is serving as the project's retail leasing team. "Residential construction is occurring in select markets, high quality space is very much in demand, and the economy has improved significantly in the past 24 months."
Brad Deck, senior vice president of retail acquisitions and development at Shea Properties in Aliso Viejo, California, is also seeing this development trend — and for good reason, he believes.
"From the financial side, we are focusing our efforts on mixed-use properties — retail with for-sale housing or retail with apartments — in order to make the deal work," he says. "Our multifamily division and relationship with our sister company, Shea Homes, allows us to do either depending on need and logic."
Shea broke ground on Alhambra Place, a mixed-use development just eight miles outside of Downtown Los Angeles, this past November. The infill project will include 140,000 square feet of retail and 260 luxury apartments.
Though any kind of ground-up construction can be expensive in California, Umansky notes opportunities do exist for those who know how to capitalize on the latest development and retail trends.
"Rents for new construction are absolute top dollar," he says. "They need to be able to make a project pencil. There is a limit to the number of retail space users that can afford these rents. There are definitely some winners and losers in this process as in certain cases, new construction expands a market, but in other cases new construction comes as the expense of existing retail space. Owners of the existing retail space that are well financed, skilled and creative can turn lemons into lemonade."
This article was originally published in Western Real Estate Business.