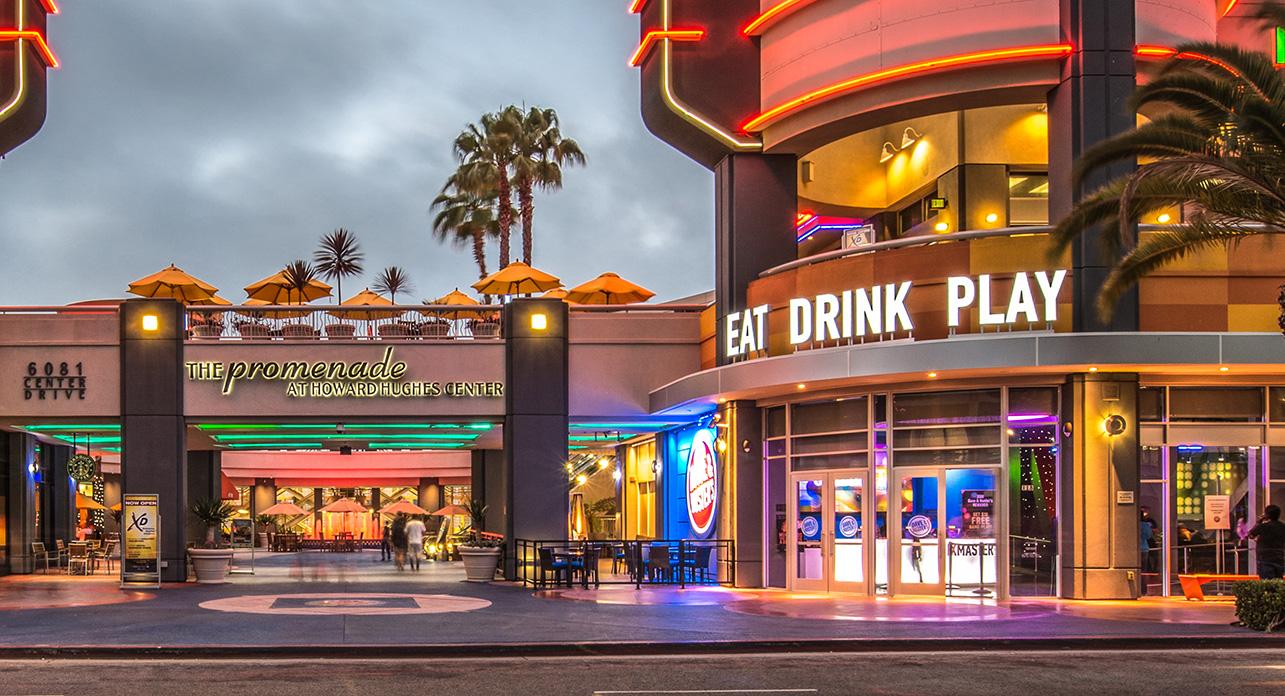 Patrons in Los Angeles' Westside seeking a combination of food and entertainment won't have to look beyond their own neighborhood for much longer. The Promenade at Howard Hughes Center has announced the addition of two new entertainment-focused restaurants, Dave & Buster's and Buffalo Wild Wings.
Both restaurants are currently under construction, according to Belinda Jacobs, General Manager at The Promenade at Howard Hughes Center, who noted that Buffalo Wild Wings is set to open November 25, 2013, while Dave & Buster's will debut in January 2014.
"These are exciting restaurants which will give our guests the opportunity to dine, play and be entertained any day of the week," said Jacobs.
The timing of these two new additions is purposeful, according to Jacobs, who explained that The Promenade at Howard Hughes Center is undergoing a positive change in focus.
"The owner of the shopping center, Passco Companies, is in the process of shifting the focus of the center, positioning it as an entertainment hub for the area," said Jacobs. "This is exciting news for local community members and tourists alike, as they will no longer have to travel outside of the Westside neighborhood to find entertainment options for themselves and their families."
The new Dave & Buster's will be one of the largest in the country, totaling over 40,207 square feet of entertainment and dining space. Known for its interactive, family-friendly atmosphere, which combines food, drinks and entertainment, Dave & Buster's is well-loved for its arcade, which features hundreds of classic and new video games.
In addition, the restaurant's menu features special items such as Spinach Dip, Peppercorn New York Strip, Dave's™ Double Cheeseburger, Roasted Turkey Avocado BLT, and Parmesan-Crusted Chicken Caesar Salad. Along with its full restaurant menu, Dave & Buster's also features a full bar with happy hour offerings, as well as signature cocktails, beer and wine. The bar is also host to nonstop sports viewing – televisions are set up throughout the bar area so guests never miss a game.
The new Buffalo Wild Wings at The Promenade at Howard Hughes Center will feature a full-service restaurant and sports bar focused on Buffalo wings, beer and live sports – the perfect trifecta for any sports lover.
The restaurant offers a variety of menu options, with a focus on Buffalo Wings, including both boneless and traditional wings in more than 20 different flavors. In addition, the restaurant offers appetizers, burgers, sandwiches, salads and a kid's menu for guests to enjoy.
Each Buffalo Wild Wings features 30 or more flat screen televisions broadcasting every type of sporting event, from football, baseball and basketball to hockey and mixed martial arts. Buffalo Wild Wings also features a full bar with signature drinks and specialty cocktails, along with a wide variety of domestic, import, craft and specialty beers.
The Promenade at Howard Hughes Center currently offers guests a luxury movie theatre, Cinemark theatres, along with several dining options, such as Islands Fine Burgers and Drinks, Johnny Rockets, Kabuki Japanese Restaurant and Rubio's Fresh Mexican Grill.
The Promenade at Howard Hughes Center is located at 6081 Center Drive in Los Angeles, Calif. More information is available at www.hhpromenade.com.