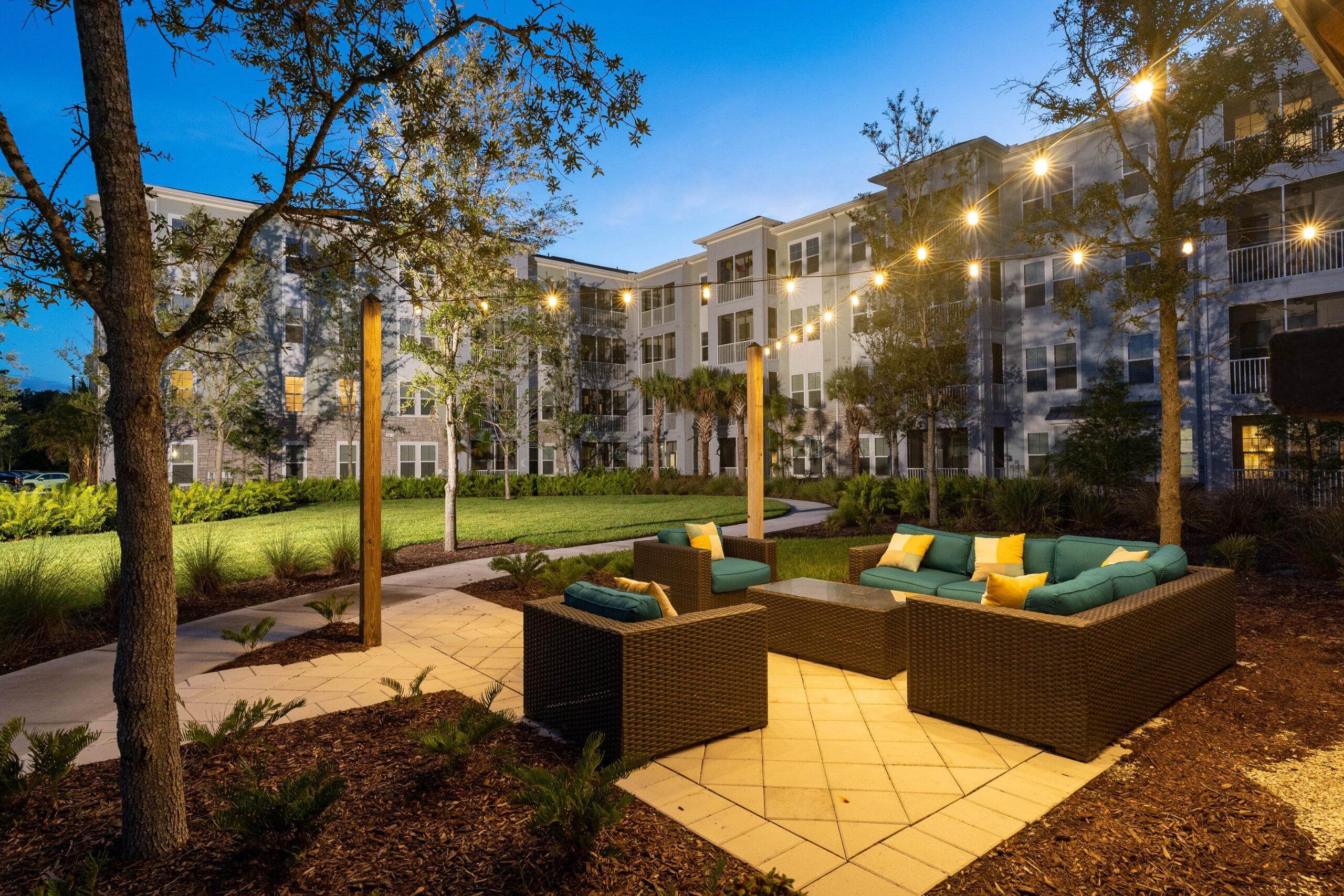 Apartment deals took a hit throughout Florida this past summer, as COVID-19 fueled uncertainty and caused financing to pull back on commitments.
But since the start of October, multifamily rental transactions throughout Central and Southwest Florida have roared back — so much so that deal volume could eclipse the final three months of 2019.
Since Oct. 1, more than 3,000 apartment units have traded hands throughout the Gulf Coast, an analysis of transactions shows, with more than $400 million being invested.
"The market here is definitely outpacing national trendlines," says Nancy Surak, managing broker and senior land advisor at Land Advisors Organization Tampa Bay. "Since March, the Tampa Bay area is the number one region in the U.S. for residential demand."
She notes, too, that in the third quarter of this year, apartment leasing in Tampa Bay grew by 22% over the comparable period in 2019, further spurring sales.
The apartment deals regionally have occurred despite, or perhaps because of, widespread fears throughout many places in the U.S. that a pending end to eviction moratoriums and falling rent collections could erode values and sales momentum.
Along the Gulf Coast, however, landlords and apartment brokers say population in-migration from the Northeast, together with steady rent collections, have allowed the sector to remain resilient here.
"There's so much pent-up demand for capital to be put out," says Colin Gillis, vice president of acquisitions for California-based Passco Cos., which last month acquired the 341-unit Tapestry Cypress Creek in Land O' Lakes for $76.4 million.
"I've never seen terms like are out there now, with five-day due diligence periods and the like," adds Gillis, who has acquired a handful of multifamily rental properties throughout the Gulf Coast, in Sarasota, Bradenton, Tampa and elsewhere.
"People are antsy, and I think that's playing a major role," Gillis says. "Interest rates are also at such a low point, and Florida is still a Top Five growth state. Investors look at the market and say that while certain properties or pockets may have issues, they'll be short term and they'll get through it."
Tapestry Cypress Creek, for instance, is 95% leased and rent collections have remained solid despite the pandemic.
Stoneweg US, a St. Petersburg multifamily investor that earlier this month spent $114 million — the largest amount on a single transaction in its five-year history — to acquire the 688-unit Trellis at the Lakes property, in St. Petersburg, says that especially suburban apartments have remained a solid investment despite the health crisis.
"If anything, COVID-19 has taught us that multifamily rentals are one of the safest real estate sectors one can be in," says Ryan Reyes, Stoneweg US's chief investment officer.
"Our rent collections have proven to be resilient — they haven't dropped below 95% or 96% throughout the crisis," Reyes adds. "I think that boils down to the fact that people need a place to live, and they value consistency in where they live and the fact that we offer affordable places to live as a company."
And while many of the multifamily rental deals — such as General Services Corp.'s $66 million acquisition of the 274-unit Allure at Gateway community in Pinellas Park and Lindy Communities' purchase of the 252-unit Iris at Northpointe project in Lutz for $51.75 million — have been clustered around Tampa Bay's fast-growing population centers, the entire region has seen increased activity.
In Southwest Florida, for instance, GMF Capital earlier this month bought the 200-unit Wild Pines of Naples complex, for $25.4 million, and Pedcor Homes Corp. acquired the 188-unit Naples 701 community, also in Naples, for $24 million.
"The buyer recognized that the dynamic location and the lack of workforce housing in the area will keep the property producing excellent returns for years to come," says Darron Kattan, managing director of multifamily investment sales for Tampa-based commercial real estate brokerage firm Franklin Street, whose team sold Wild Pines.
Interestingly, unlike recent years in which high-profile, urban residential towers traded at top-dollar prices — think deals such as last year's $131.5 million trade of the luxury 21-story Icon Harbour Island tower in downtown Tampa — most of the recent sales have involved stabilized, suburban properties.
Nick Meoli, an executive managing director for commercial real estate brokerage firm Cushman & Wakefield, in Tampa, says COVID-19 has had a minimal impact on occupancy because of the influx of new residents from out of state.
"Occupancy has not changed very much since COVID-19 struck," says Meoli. "And most properties are performing well, with 96% to 98% rent collection rates. That, as a result, has meant there's been very little bad debt that's accrued across the sector."
Moreover, thousands of new units are being readied to come on the market through new construction throughout the entire region, meaning the sales cycle will likely continue well into 2021.
In downtown Tampa, for instance, Strategic Property Partners is building a new 420-unit apartment project at 815 Water Street, within the $3 billion Water Street Tampa neighborhood.
In Sarasota, Belpointe REIT Inc. is slated to take advantage of a federally designated Opportunity Zone by delivering 418 apartments in pair of buildings that will replace much of the Main Plaza office and retail complex downtown.
And in Pinellas Park, Birmingham, Ala.-based LIV Development recently acquired nearly 20 acres for $9.3 million, where it will develop a new 349-unit complex.
"There were 4,000 new units delivered this year in the region, and vacancy rates remain largely unchanged," Surak says. "That tells us that we're not overbuilding, that there's still strong demand. As a region, we're definitely bucking the trends in multifamily. Tampa is finally hitting its stride."
Originally published on BusinessObserver.com