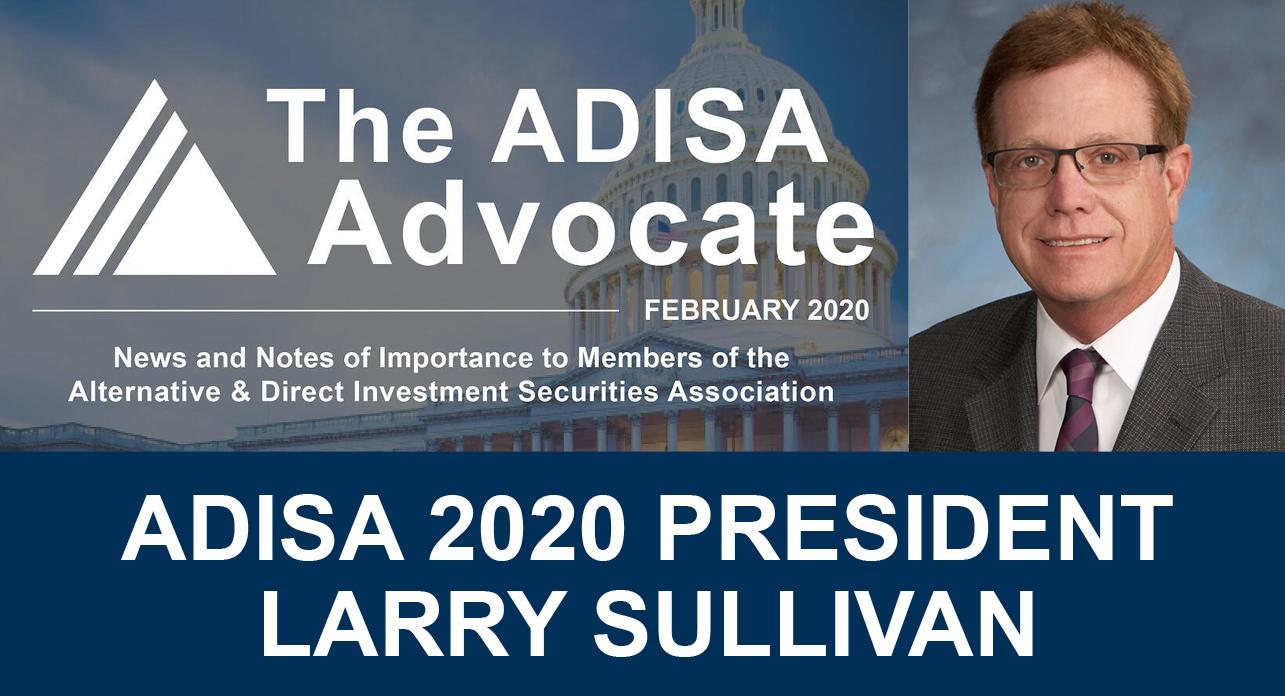 ADISA is pleased to welcome our 2020 ADISA president, Larry Sullivan. He has been a member of ADISA since our association formed more than 15 years ago. Larry has more than three decades of experience in the real estate investment industry and we are pleased to have him at the helm of our board of directors this year.
Larry, president of Passco Companies, has a strong record of leadership in real estate investment. During his career, he has been involved in more than $15 billion in real estate transactions on a national scale, including core, value-add and development projects spanning across all major property and specialty sectors.
Larry is also a member of ADISA's Legislative & Regulatory Committee, where he helps spearhead legislative initiatives on behalf of the association. In 2017, he played a central role on tax reform issues that affected Section 1031 exchanges, and coordinated ADISA's position with other associations, such as the National Multifamily Housing Council and the Real Estate Roundtable. For his efforts, he was recognized as the 2017 winner of ADISA's "A Champion of Excellence" award. The ACE award is the highest honor bestowed on an ADISA member by the Association and is given for demonstrating a remarkable commitment to excellence and adhering to the highest ethical standards and quality performance.

This year is already shaping up to be a very successful one for our association as well as the entire alternative investment industry, and we look forward to the many accomplishments Larry will bring to the table in his new role.
ADISA 2020 Board of Directors
Officers:
Larry Sullivan, Passco Companies
President
Brian Buehler, Triton Pacific Securities
President-Elect
Greg Mausz, Preferred Capital Securities
Immediate Past President
Sherri Cooke, AI Insight
Vice President
Ann Moore, International Assets Advisory
Secretary
Mark Kosanke, Concorde Financial Group
Treasurer
Directors:
Brandon Balkman, Orchard Securities
Jean Merriman, The Strategic Financial Alliance
Catherine Bowman, The Bowman Law Firm
Joe Michaletz, Discipline Advisors
John Grady, Practus
Vali Nasr, Claraphi Advisory Network
David Johan, Altruist Advisors
Brad Updike, Mick Law
Nati Kiferbaum, Inland Private Capital Corporation
Tom Voekler, Kaplan Voekler Cunningham & Frank
Matt Malone, FS Investments
Darryl Steinhause, DLA Piper, Ex-Officio, Legal Counsel
Originally published at www.adisa.org