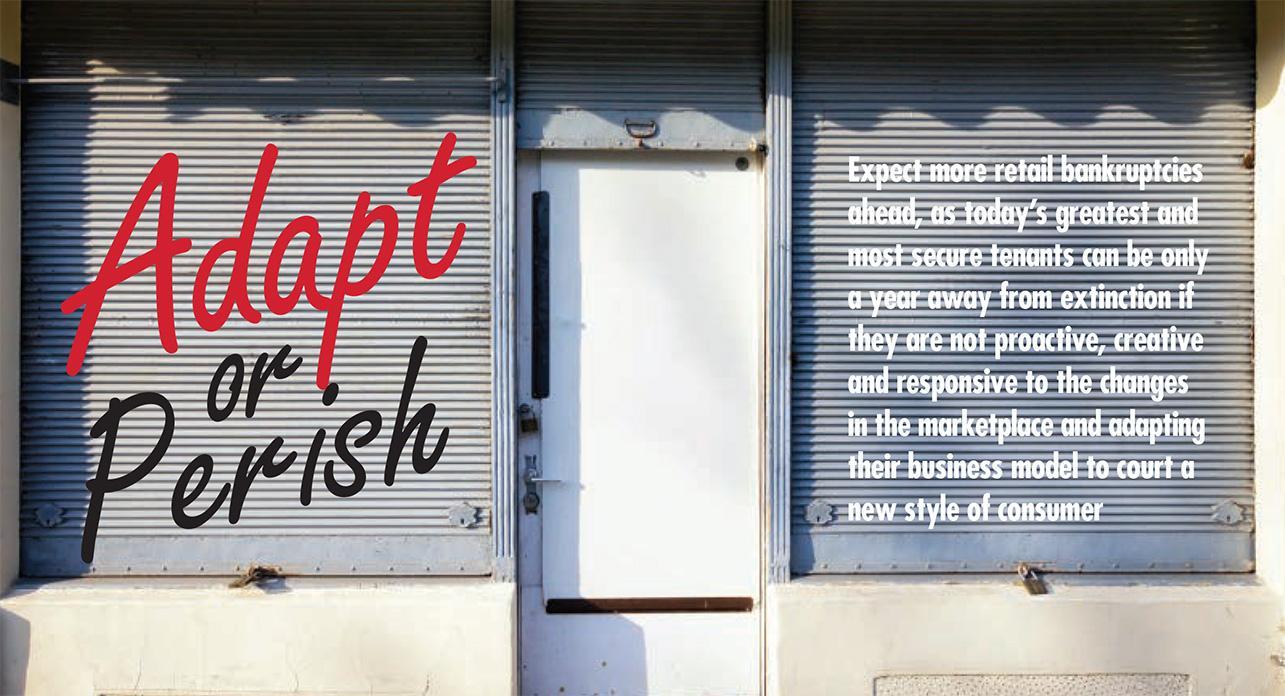 Earlier this year, Sports Authority filed for Chapter 11 bankruptcy protection. The retailer cited "the increasing amount of shopping that is occurring online" as one reason for decreased sales and asked a federal bankruptcy judge for permission to begin store-closing sales at about 140 locations.
At the time, CEO Michael Foss said that the company filed for the voluntary bankruptcy so that it could continue to adapt its business to meet the changing dynamics in the retail industry. Foss said that Sports Authority intended to use the Chapter 11 process to "streamline and strengthen its business" operationally and financially. However, the retailer subsequently announced that after being unable to reach a restructuring agreement with creditors, it would pursue a sale of "some or all of the business."
The Sports Authority bankruptcy filing was just one in a recent series that has also included RadioShack and Wet Seal. And some sources predict many more will follow this year.
"When you combine a critical mass of Internet shopping, the growing reach of same-day shipping and huge amounts of financial leverage, you have a pretty potent cocktail for disaster," sums up Tom Mullaney, managing director of restructuring services at JLL. "Financial leverage feels great when it works, but when your top line begins to come under attack—as was the case with Sports Authority or Men's Wearhouse and its Jos. A. Bank division—your cash flow shrivels pretty quickly, and even more than just small same-store sales declines would imply."
Mullaney tells Real Estate Forum that "there has been far too much money chasing a limited number of deals. And much of that money is fueled by debt, rather than equity. With equity, you can skip dividends."
Bondholders and lenders, he adds, are not quite as forgiving. That would explain the "growing number of highly leveraged retailers that are exploring bankruptcy or are taking dramatic action to stop financial losses before it is too late."
Sports Authority's initial announcement is another example of the evolution of retailers working to "right-size," with some having more success than others, notes Ben Terry, a senior associate at Coreland Cos.
Some of the retailers Terry expects to hear similar announcements from this year likely will come from the soft goods and electronics categories. "Best Buy might be the next to announce store closings, while Staples has been trying to aggressively downsize from its traditional 20,000- to 25,000-square-foot footprint to 12,000 square feet, to remain competitive," he says. Staples and Office Depot, which planned to merge, called off the deal earlier this month.
Terry explains that "retailers are challenged by the need to correctly balance their brick-and-mortar presence with a powerful online presence. Some, like Dick's Sporting Goods, are doing it very well and expanding. Others—like the aforementioned Sports Authority—have not been able to figure it out."
The best example, Terry says, might be Circuit City, which filed for bank- ruptcy in 2008 and is now reentering the market with a 4,000-square-foot foot-print. He describes this as "much more realistic in an era in which all electronics can easily be purchased online, but the need to touch-and-feel still exists."
Filling traditional big-box space with a single retailer is a challenge today, Terry continues. "There are a number of new concepts expanding in and entering the market looking for the 'sweet spot' between 8,000 and 25,000 square feet," he says. "Many of the vacant big boxes will have to be subdivided to accommodate smaller discounters, gyms, specialty grocers and even a few soft goods and electronics concepts."
Hibbitt Sports is entering Southern California with a 5,000- to 6,000-square-foot concept, he says, similar to Big 5, "but with a strong online brand and a brick-and-mortar target presence in secondary and tertiary markets."
And Ryan Imbrie, managing director for SVN—Imbrie Realty and chair of SVN's Retail Product Council, agrees, noting that retail companies must adapt or perish. The question becomes, what changes are necessary to survive?
At a macro level, Imbrie says, retail sales grow as a whole, but unfortunately, not all retailers are experiencing this trend. "With the announcements of the Chapter 11 bankruptcies of Sports Authority, Radio Shack, American Apparel and several others in the past 12 months, it is apparent that these brands, or potentially their shopping experiences, have fallen out of favor with shoppers. Retailers need to continue to think forward and target the emerging demographic groups."
The importance of the Millennial shopper—"the Holy Grail for retailers," Imbrie says—is ever-present. "They represent the largest age demographic and have an increasing earning power, but their shopping behavior is radically different than prior generations. Millennials don't desire the all-in-one shopping experience and are more likely to search for products online. With detailed product information, customer reviews and price comparison at their fingertips, products are only a click away. Retailers who hope to remain relevant must adapt their business model to court this new style of consumer."
And while some retailers file Chapter 11 to help "streamline" their business, others are joining the retail revolution by looking to scale down or vacate their premises altogether.
In Phoenix, for example, many retailers are looking for a more efficient footprint that meets the needs of the modern user. LevRose Commercial Real Estate retail team recently told Forum sister publication GlobeSt.com that there is a lot of "push for adaptive reuse" for many cities in the Greater Phoenix market.
For example, "our major cities are working with specialists in economic development to create strategies that can revive their downtown areas. The need for a center of entertainment, culture and influence is becoming increasingly popular and of high demand. Each city is looking for a way to define itself with a significant downtown development," reports the Scottsdale, AZ-based team, made up of senior vice presidents Trenton McCullough, Peter McQuaid and Greg Vanlerberghe, plus associate Mark Cassel.
New retail development and "adaptive reuse" is something to pay attention to, according to the LevRose team. "Although good for the economy and state development, it can potentially have a negative impact on the existing retail centers in the area since they would no longer be as desirable to prospective and current tenants. Future development will add retail space that will begin to replace the less desirable product, growing vacancy in older, less up-to-date centers."
The team adds that "This clearly can present opportunities for some buyers that are more hands-on and have the wherewithal to revitalize a center." Further, the team says that "sellers with older or outdated retail centers may not see benefit from these new developments as they will need to adjust their property values or pricing accordingly."
Whether a seller or buyer of a retail asset, both will need to pay attention to interest rates in the coming year, says the LevRose retail team. "The value of retail assets should continue to grow, and buyers can expect to pay prices that reflect lower cap rates and a higher price per square foot. There should be some good opportunities this year and into 2017."
It isn't just the retail tenants that must evolve, but retail owners as well. One company that has focused on finding new ways to optimize retail assets is Irvine, CA-based Passco Cos. LLC. According to the firm's VP of retail acquisitions, Bob Peterson, the retail sector is undergoing tremendous change as consumer wants and needs evolve. "The ability to adapt quickly to changes in consumer preferences has never been more critical for retailers and retail owners."
Like the LevRose team, Peterson agrees that consumers today are demanding retail environments where they can not only shop but also build meaningful experiences with friends and family. "Retail owners who are shifting the focus of their centers to highlight this experience are the ones that will continue to thrive and drive traffic."
Peterson tells Forum that this shift in consumer preferences places a higher emphasis on retail owners to acquire top-tier centers in high-quality locations, or necessity retail centers. For example, he points out that premium class A centers in top locations and necessity retail are well positioned to withstand shifts in consumer preferences, whereas inferior centers will continue to struggle as the retail landscape evolves. "Retailers today are focused on driving sales and traffic and are less concerned with the overall cost of rent. Therefore, these retailers are gravitating to the sales-driven centers that can provide increased traffic, and that is the premium centers."
These centers remain a top choice among retail investors because they are positioned to increase rents and attract high-quality tenants over time, Peterson explains. "Inferior centers, on the other hand, are unable to simply lower rents in an effort to attract new tenants and will likely have difficulty attracting and retaining tenants as the market continues to shift."
Inferior centers will also be significantly more impacted by retailers who are not adapting their strategies to adhere to the changes in consumer preferences than premium centers, Peterson says. For instance, Macy's recently revealed that it is closing its location at the Irvine Spectrum, a class-A center in Irvine, CA. Yet the loss of an anchor tenant won't have a significant impact on the premium center. Rather, the Irvine Co., the owner of the Irvine Spectrum, "views Macy's leaving as an opportunity to reposition this space and further create the experiential factor that consumers are demanding," explains Peterson. "That said, if Macy's or other large anchor tenants were to leave an inferior center, it's unlikely that it would be able to recover."
At the same time, owners are paying much closer attention to the selection of tenants within their centers, Peterson says. "They are closely monitoring what retailers are doing in their niche markets and how they will perform long term."
Owners are also shifting their focus to bring in more restaurant- and lifestyle- focused tenants to further drive the experience factor, says Peterson. "This will help to create a balanced tenant mix that can with-stand shifts within the market and the overall reduction of retail tenants due to the growth of e-commerce."
Omni-channel retailers will remain desirable for landlords as they continue to outpace retailers who have not implemented this strategy, he explains. "These retailers are adapting their strategies to the changing consumer and will provide more stability to a retail owner over time. They are downsizing their physical stores, increasing the size of their regional distribution centers and implementing strategies to provide ease of returns for consumers." He cites Amazon—the ubiquitous online retailer who is now opening brick-and-mortar locations—as a perfect example of this. "This omni-channel approach allows retailers to expand sales by drawing a consumer into a physical location for a return."
The evolution in retail is also changing how Bayer Properties approaches development from the very beginning of the process. The firm's retail brand strategist, Lindsay Bayer Shipp, says that there is a new emphasis on architecture that wasn't there before. "Tenants want to weigh in on the look of their stores and make sure the architecture serves as an extension of their brand."
Retailers like Bonobos and Shake Shack, she says, are invested in creating a space that speaks to their brand. "There is a new emphasis on 'local,' and developers are focused on architecture that speaks to the market where the property is located and incorporating materials that feel authentic."
One thing on which developers and owners really need to concentrate, according to Bayer Shipp, is how omni-channel retailing is going to play a role in shopping centers. "Whether that's interactive dressing rooms or kiosks for picking up and returning online orders, there needs to be a focus on figuring out how to complement what retailers are doing."
The lines between the brick-and-mortar and e-commerce worlds are blending more than ever with the rise of omni-channel shopping, observes Jeff Edison, principal and CEO of Phillips Edison & Co. Consumers still prefer to do their grocery shopping at their neighborhood shopping centers, but he says the grocery sector is adapting to the tech revolution.
"While grocery's integration of brick-and-mortar and e-commerce is still in its early stages, the leading grocers in our portfolios are already ahead of the curve," says Edison. "With time constraints and busy schedules now the norm for most consumers, they're becoming more comfortable with shopping online for groceries. Brick-and-mortar grocery stores are becoming more tech savvy and cognizant of their customers' time."
In addition, stores are adding more prepared foods for consumers who are on-the-go, he explains. Walmart and Kroger have been rolling out click-and-collect programs that allow consumers to order their goods online and pick up instore. "Grocers are turning their stores into warehouses and continuing to prove that they are the best retailers to deliver goods the last three miles to the consumers' home."
And it isn't just the front end of the grocery industry taking advantage of technology, adds Edison. Back-end systems are also beginning to transform inventory tracking. For example, he says that Whole Foods has taken advantage of a system called Powershelf, which helps retailers reduce their out-of-stock items. "When a shopper lifts the last item off the shelf, a store employee instantly receives a text message notifying him or her of the exact product that needs to be restocked. This system also includes digital price tags, which allow the retailers to change their pricing on the fly."
Like most retail brands, grocery stores have also taken advantage of social media advertising as a popular way to reach their audience, Edison explains. Instagram, specifically, has become a successful and growing way for grocers to tap into their social demographic. Whole Foods recently ran an Instagram campaign where it asked its followers to share a picture of their favorite summer food adventures every Monday through Labor Day and awarded the winner of the contest with $25 and other summer goodies.
From a financing perspective, today's retail owners must be proactive in identifying the funding they need to keep up with consumer demand, explains Shahin Yazdi, a principal at George Smith Partners. But while financing is certainly available, lenders continue to be careful. Owners planning for renovations will need solid business plans and pre-leased units in order to demonstrate their strength to potential lenders.
He adds that leasing remains a tremendous factor in the retail lending environment. "Often, the first question a lender will ask is: How many vacancies does the center have and when are the majority of the leases coming due?"
For small centers, Yazdi says, owners should be ready to sign recourse loans when funding is needed. "Non-recourse financing is especially difficult for centers with mom-and-pop tenants. There are some exceptions, however." GSP recently helped the owner of a Southern California center 100% occupied by mom-and-pop businesses to secure a low-leverage, nonrecourse cash-out refinance, he says. The owner had purchased the property the prior year and leased up the entire space, which was attractive to the lender.
When it comes to financing, the principles have not changed, says Yazdi. "Lenders are looking at the credit of tenants, the terms of leases, where rents are compared to other centers in the market, as well as the strength of a center's location."
Beyond the basics, there is a great deal of volatility in the CMBS market that is strongly affecting the current retail lending landscape. "Approximately $160 billion in CMBS loans will mature by the end of 2016, and it is predicted that only $60 billion of that total will be able to be refi- nanced by CMBS lenders," he says. "This has a huge effect on the market from a macro level. Lenders are working to achieve wider spreads and are being more conservative as the uncertainty of the CMBS market is navigated."
The pressure of these CMBS changes will be felt most deeply in tertiary markets, Yazdi explains. "That said, as this market changes, lenders will look to new structures to fund today's retail owners by providing mezzanine debt and preferred equity."
The market doesn't know what to make of retail right now, explains Sanford Sigal, president and CEO of NewMark Merrill Cos. "Their paradigm of sales growth, then same-store sales, or store growth, have all led them down a path of a lot of unintended consequences. Some of the corporate bond prices are unbelievably cheap for very functional retail, and others are fully priced for those on the edge," he says.
But one thing is for sure, adds Sigal. "Today's greatest, most secure tenants can be only a year away from extinction if they are not proactive, creative and responsive to changes in the marketplace."
This article was originally published in Real Estate Forum's May 2016 issue.